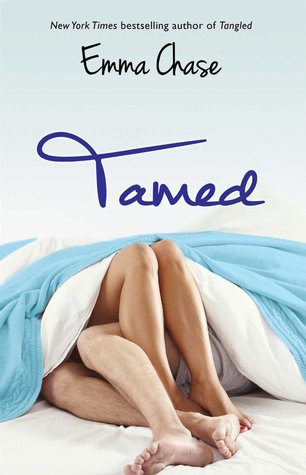 Tamed
by Emma Chase
Series: Tangled #3
Genres: Contemporary Romance
Source: Purchase
Purchase*: Amazon *affiliate
Rating:
Stop me if you've heard this one before: girl meets player, they fall in love, player changes his ways. It's a good story. But it's not our story. Ours is a lot more colorful. When I met Dee I knew right away that she was special. When she met me, she thought I was anything but special—I was exactly like every other guy who'd screwed her over and let her down. It took some time to convince her otherwise, but turns out I can make a convincing argument when sex is at stake. You might know where this story's headed. But the best part isn't where we ended up. It's how we got there. TAMED goes back in time to the Tangled days. But this time around, it's not Drew dishing out the advice and opinions—it's his best friend Matthew, who of course is dealing with Dee Dee
*I read Tamed right around release, wrote the review and stuck it in my drafts..yep totally forgot to share with you. I have already shared the fourth book Tied this month. Whoops*
Can I just have a moment to fangirl? Squeeeee! Ok, I feel more in control. I am in love with this author and series. The third in the Tangled series by Emma Chase, Tamed gives us yet another male perspective and I abso-friggin-lout-ly love the way Chase fleshes out her characters. They are snarky, genuine, raw and make me giggle: snort like nobody's business!
The events that occur in Tamed take place during the same period as the previous Tangled novels, so while we don't see a lot of Drew Evans *le sigh* and Kate we do cross-paths with these characters as they interact in Matthew's and Dee's timeline. Ooo but Mckenzie is present and I just adore her.
Dee is unique, in your face, and marches to her own drum. Not only is she a genius the girl has snark, fascinating opinions, and spunk! I would hang out with her anytime!  She would certainly have me pushing my own personal boundaries.
Tamed unfolds from Matthew's perspective and like Drew he speaks directly to the reader. Emma Chase does this brilliantly, and Matthew is a captivating storyteller. His personality, passion for friends, work ethic and insanely humorous ideas regarding the opposite sex had me giggling, swooning and sighing.
I consumed Tamed in one sitting and I am pretty sure I forgot to breathe. The tale is relatively low on angst as Chase peeled back the character's exposing their hang-ups, and personalities. While Matthew pretends to be a player and his crude comments initially made me worried, we quickly see the softer, passionate side of him. Dee has her issues and is the first one to warn you about them. The romance was delicious, with hot scenes that made my nook sizzle. Chase knows how to write hot, genuine scenes that leave me a tad breathless.
If you have not read the Tangled series by Emma Chase and you like humorous, passionate romances that wrap themselves tightly around your heart..then run to the bookstore or one-click and immerse yourself in these fantastic tales! Tangled the first in this series made the Caffeinated Top Ten Adult Reading List for 2013.
Related Posts