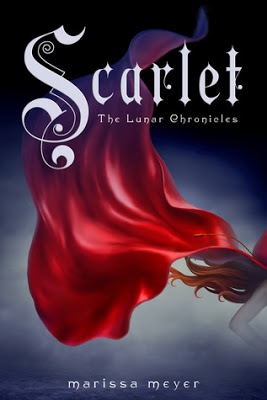 Scarlet
by Marissa Meyer
Source: Publisher
Purchase*: Amazon *affiliate
Rating:
The fates of Cinder and Scarlet collide as a Lunar threat spreads across the Earth... Cinder, the cyborg mechanic, returns in the second thrilling installment of the bestselling Lunar Chronicles. She's trying to break out of prison—even though if she succeeds, she'll be the Commonwealth's most wanted fugitive. Halfway around the world, Scarlet Benoit's grandmother is missing. It turns out there are many things Scarlet doesn't know about her grandmother or the grave danger she has lived in her whole life. When Scarlet encounters Wolf, a street fighter who may have information as to her grandmother's whereabouts, she is loath to trust this stranger, but is inexplicably drawn to him, and he to her. As Scarlet and Wolf unravel one mystery, they encounter another when they meet Cinder. Now, all of them must stay one step ahead of the vicious Lunar Queen Levana, who will do anything for the handsome Prince Kai to become her husband, her king, her prisoner.
Cinder earned a spot on my top ten young adult reads in 2012 making Scarlet one of my most anticipated reads for 2013. The world and characters she created in Cinder captured my heart. Scarlet hailed as a companion book offers a retelling of Red Riding Hood and drops her right into Cinder's world; it was captivating, original, filled with danger and I loved every minute of it.
The tale unfolds from dual points of view and an occasional perspective from others. We split most of our time between Scarlet and Cinder. Cinder's adventure continues from where we last saw her and Scarlet's adventure is just beginning. As the two tales unfold events slowly bring the two storylines together and I was held captive despite a predictable storyline. The thrill lies in knowing what will happen and not being able to warn the characters as they move towards danger.
We all know the characters from these beloved tales but Meyer molds them into unique, strong characters that you become passionate about. Cinder sees growth and acceptance in this second installment. She has already displayed loyalty and strength but here we see her vulnerable side as she struggles with her conscience. My beloved Iko is back! She has taken on an interesting form but her sense of humor was present. Kai is still struggling with his role as king, and his feelings for Cinder and his role is small in this book. Through Cinder, we meet Throne a humorous character with some amusing characteristics. I found myself giggling over some of his statements and actions. We meet Scarlet who lives on a farm in France. Her Grandmother Michelle Benoit has been missing for almost two weeks, and the police have called off the investigation claiming she is a runaway. Right away we can see that Scarlet is a fiery character and I instantly connected with her. Wolf a street fighter agrees to help Scarlet search for her grandmother. He is streetwise and goes from protective to leery as he interacts with Scarlet. Bad-boy from top to bottom Wolf reeks of confidence and purpose. He surprised me and I found him quite swoon-worthy. He is taken aback by Scarlet and her bold, no-nonsense, in your face, just do it attitude. Their relationship is volatile and at times romantic. Our villain Queen Levana is back and ooh how I love to hate her! We see growth and movement in Scarlet, Cinder, and Wolf. Meyers has definitely created characters that are memorable and each has a unique voice.
I love the world Meyers created and while the tale that unfolds is predictable it offered me a unique chance to become caught up in the characters themselves. The romance which at first felt awkward slowly developed into something warm and fuzzy. I am looking forward to seeing how it develops. I still walked away with questions about the world, cyborgs, and Lunars but I am confident my questions will be answered. The author did a fantastic job of weaving these two fairy-tales together creating a memorable and enjoyable story. The ending left me in a good place with high expectation for Cress the third book where we will meet Rapunzel. *dances*
Fans of fantasy and retellings will find Cinder and Scarlet delightful. Filled with unique characters, action-packed moments and a few giggles. Cress will release in 2014 and yes my friends the wait is killing me!
Related Posts