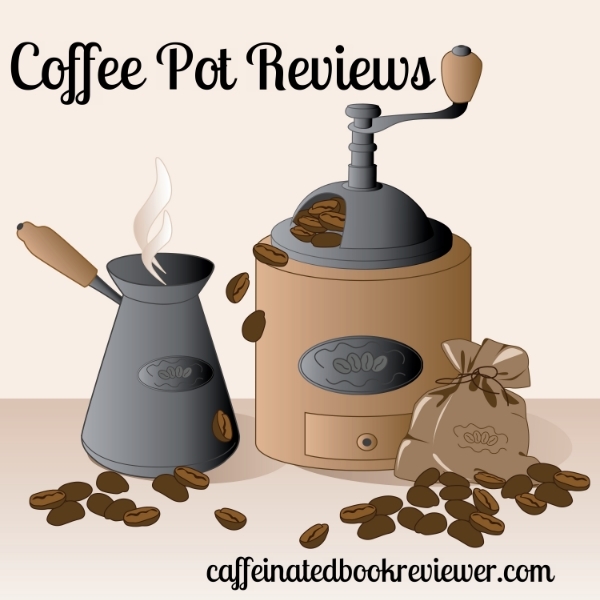 Welcome to Coffee Pot Reviews! These are short and sweet reviews done in the length of time it takes my coffee pot to brew! I read a few holiday-themed novella's and wanted to share quick "Coffee Pot Reviews" with you. Each of these can be read in a single evening and all of them are available as eBooks for under a dollar. There is something for everyone from New Adult to Paranormal.
Christmas Kisses
by H.M. Ward
Genres: Contemporary Romance
Source: Purchase
Purchase*: Amazon *affiliate
Rating:
How hard is it to NOT have sex with him? Lust has melted Holly Connelly's brain and it's all Ryan Darcy's fault. He's been ruthlessly flirting with her for the past three years. Ryan's a sex god complete with sinful body, endless wit, and an orgasm-inducing smile. One sultry look from him will make her panties jump off her body. His endless string of one-night stands has Holly thinking she'll be just another conquest. Since she actually has feelings for the guy, it makes it that much harder to put off his advances. When they get trapped together by a snowstorm, it's all she can do to resist him. If Holly says yes, she'll probably regret it. If she says no, she'll always wonder what if.
I consumed this in one sitting and walked away wanting more. This was a smoking hot, steamy read with characters I connected with. Holly is home for Christmas break and when she sees Ryan the boy she has crushed on since she was fifteen her brain turns to mush and her body begins to hum. When the two become trapped in a snowstorm they are both in for a surprise. I loved this novella and the way the author expressed the characters emotions and thoughts. The flow was well paced and the relationship felt very genuine. I would love to read more about Holly and Ryan.
Mistletoe in Maine
by
Ginny Baird
Series:
Holiday Brides #3
Genres:
Contemporary Romance
Source:
Purchase
Purchase*:
Amazon
*affiliate
Rating:
Single mom Carol Baker has the goal of providing an old-fashioned, white Christmas for her two kids. She's been divorced and the kids' dad, sadly, hasn't been the most attentive father. So, Carol takes her crew to New England, hoping for a happy holiday and a chance to make her small nuclear family feel whole. Little does she know that a series of mishaps and adventures will land her in the handsome innkeeper's arms, and cause her to rethink the meaning of faith. With his only child headed to college, innkeeper Paul Love plans to sell his establishment and take an early retirement in Montreal, where he can live out the solitary life of a bachelor. Though his son and mom have other plans, including a surprise visit from Paul's old high school sweetheart, Beth. But it's hard to focus on Beth, when an offbeat brunette from Virginia captures his imagination. After so much time alone, can Paul open himself up to a little Christmas magic? What's more, can he convince Carol to believe, as well?
Carol is a recently divorced woman whose husband left her for his secretary. She has just finished telling her kids they will be staying close to home for Christmas due to expenses; when their absentee father shows up unannounced to drop of presents before he and his girlfriend go to the islands for Christmas. Determined to make this the best holiday ever, she books them a holiday Christmas at a Maine Inn. The tale that unfolds is sweet, romantic and full of Christmas spirit. The romance was slow to develop and felt genuine. Fans of small-town settings, families and Christmas magic will love this holiday novella.
The Christmas Cookie Chronicles: Carrie
by Lori Wilde
Genres: Contemporary Romance
Source: Purchase
Purchase*: Amazon *affiliate
Rating:
On Christmas Eve, if you sleep with kismet cookies under your pillow and dream of your own true love, he will be your destiny." Carrie MacGregor doesn't believe this--not one bit. She might be a "paid up" member of the Cookie Club and the local Sweethearts Knitting Club, but she's not about to give in to the forced ho-ho-ho of the season. And why? Mark Leland. When he left town he broke Carrie's heart. Now, the local-guy-made good is back, hosting the reality show "Fact or Fantasy." Fact: Mark broke her heart. Fantasy: her friends think they'll be getting back together. But could the magic of a Twilight, Texas Christmas make Carrie's secret dreams come true?
I have long enjoyed Lori Wilde's Twilight Texas books featuring the Sweethearts Knitting Club and First Love Cookie Club so I was delighted to read The Christmas Chronicles novella featuring Carrie. I love small town romances and while I enjoyed revisiting and seeing some of my favorite characters, this novella works perfectly as a standalone. The romance was sweet, felt genuine and brought a smile to my face. The townsfolk and the television show added some interesting twists. Twilight Texas is a small town I'd love to visit. There are two other Christmas Chronicles featuring Raylene and Christine. I look forward to reading those as well.
A Vampire's Christmas Carol
by Karen McCullough
Genres: Paranormal Romance
Source: Purchase
Purchase*: Amazon *affiliate
Rating:
Can Christmas Eve get any more fun? On her way to her family's home, Carol Prescott's car slides into a ditch in a deserted area with no cell phone signal. The only available shelter is already occupied…by a vampire. To Michael Carpenter, Carol is the bait of a trap. In an effort to hold onto his soul, Michael has resisted the urge to drink human blood for almost a century. Now he hovers between human and vampire. If he doesn't drink from a human before the night ends, he'll die. He's desperately thirsty, but Michael has seen the soulless monsters vampires are and he prefers death. Carol is pure temptation to him, the Christmas present from hell…or is it from heaven?
This tale offered up a unique twist on the Vampire lore where once turned a vampire has one hundred years before he must drink human blood and fully turn or accept death. If Micheal Carpenter doesn't drink human blood tonight he will die. He has chosen his path but this Christmas Eve is proving to be a torturesome. He lives on an isolated stretch of countryside and is startled to find Carol Prescott at his door. This was an interesting tale, that moved at a nice clip. We learn about Micheal and Carol as they share their lives and past Christmas tales. Watching the romance unfold was sweet and I liked the twists and turns as the tale ended. I worried I would not get my happily ever after, but Christmas miracles do happen. This was fresh and different and I liked how the author used their stories to bring the couple together.
Well the coffee is done and this ends my first ever "Coffee Pot Review"
Copyright (c) 2011-2013 Caffeinated Book Reviewer
Stay Caffeinated!
Never miss a post by adding Caffeinated to your Inbox
Your email is not shared and you can unsubscribe at any time.
Related Posts