I have been devouring the October Daye audiobooks. Today, I have The Brightest Fell by Seanan McGuire. This is the eleventh novel in the series and they just keep getting better. No rest for our hero, it seems. Come see why I am loving this series….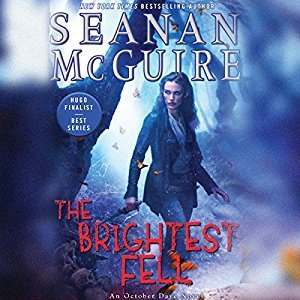 The Brightest Fell
by Seanan McGuire
Series: October Daye #11
Narrator: Mary Robinette Kowal
Length: 11 hours and 36 minutes
Genres: Urban Fantasy
Source: Purchase
Purchase*: Amazon | Audible *affiliate
Rating:

Narration: 5 cups Speed: 1.5x

Things are slow, and October "Toby" Daye couldn't be happier about that. The elf-shot cure has been approved, Arden Windermere is settling into her position as Queen in the Mists, and Toby doesn't have anything demanding her attention except for wedding planning and spending time with her family.

Maybe she should have realized that it was too good to last.

When Toby's mother, Amandine, appears on her doorstep with a demand for help, refusing her seems like the right thing to do...until Amandine starts taking hostages, and everything changes. Now, Toby doesn't have a choice about whether or not she does as her mother asks. Not with Jazz and Tybalt's lives hanging in the balance. But who could possibly help her find a pureblood she's never met, one who's been missing for over 100 years?

Enter Simon Torquill, elf-shot enemy turned awakened, uneasy ally. Together, the two of them must try to solve one of the greatest mysteries in the Mists: what happened to Amandine's oldest daughter, August, who disappeared in 1906.

This is one missing person case Toby can't afford to get wrong.
Just when things seem to be normal, the doorbell rings and in walks your mother. The next thing you know, two of your inner circle are taken hostage and you have to find your missing sister, August to save them. Only August has been missing for a hundred years… where to begin?
Amandine the Liar is wickedly scary…like mommy dearest scary. She rips people out of Toby's life and demands she find her true daughter. From the first chapter, I was all in and devoured this in just a few sittings.
It was hard. People we care about get hurt, Toby will have to pay, and some who harmed her are redeemed. We will travel the road by candlelight again and there will be danger and bargains met before it is all done.
McGuire's work has made me grow attached to these characters. Not all those in fairy are to be feared, but their games and nonsense hurt the innocent. The more we learn, the more I understand why Toby stepped up and became the hero she is.
The story wraps up nicely, but we know danger is just around the corner. Mary Robinette Kowal has become the voices of these characters, from the Sea Witch to Quentin. She enhances this already brilliant storyline and I highly recommend listening.
The Brightest Fell by Seanan McGuire held me captive as #OctoberDaye searches for her missing sister to save two of her own. #UrbanFantasy #Audiobook #IOwnIt #MaryRobinetteKowal
Click To Tweet

Stay Caffeinated!
Never miss a post by adding Caffeinated to your Inbox
Reading this book contributed to these challenges:
Related Posts