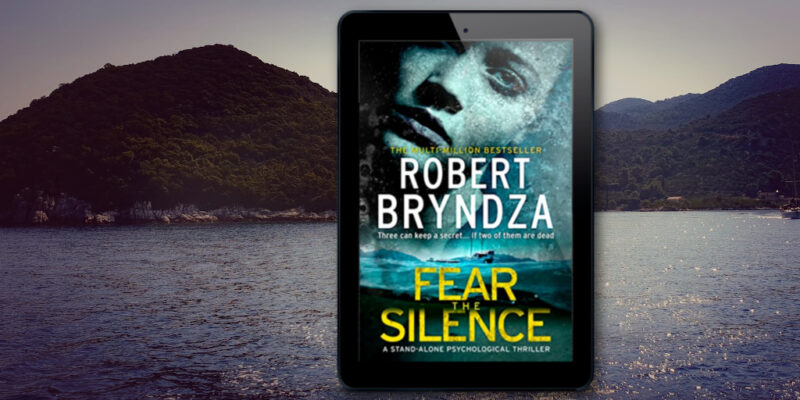 What would you do if your spouse committed suicide, and you had no warning? What would you do if you got a cryptic letter from him soon after? In Robert Bryndza's standalone psychological thriller, we follow Maggie as she uncovers truths that place her and those around her in danger. Suspense and danger await you in this chilling tale.
Fear The Silence
by Robert Bryndza
Genres: Psychological Thriller
Source: Publisher
Purchase*: Amazon | Audible *affiliate
Rating:
'Do you believe Will took his own life?'

The question echoed off the white tiles in the hospital's cold, cavernous morgue, and I studied my husband in peaceful repose. I leaned down and put my forehead against his. Silent tears ran down my cheeks. They felt hot, and he felt so cold. It was five days since his death, and my grief felt heavy, like a vast, dark mass pushing down on me.

When Maggie's husband, Will, is shot dead in their London home, she thinks he is the victim of a burglary until the police tell her the shocking news that Will was the one who pulled the trigger.

Maggie is consumed with grief and questions. Will wasn't suicidal. He had so much to live for.

After the funeral, Maggie travels to their holiday home on a small Croatian island to escape London. She finds a disturbing letter written by Will, containing clues to a dark secret.

As Maggie puts the pieces together, she discovers Will's death is connected to someone from his past… Someone who will go to extreme lengths to keep Maggie silent.

Three can keep a secret... If two of them are dead.

The international multi-million bestselling author of The Girl in the Ice is back with his first stand-alone thriller, a heart-racing, hold-your-breath read that will keep you hooked until the very last page.
Fear the Silence begins on a normal Sunday. Maggie and her husband spend a lazy Sunday together before she headed off to work at the local hospital. Her night changes forever when a gunshot victim arrives and it's Maggie's husband. At first Maggie thinks Will is the victim of a break-in, but the police tell her it's a suicide. She didn't even know Will owned a gun.
The tale that unfolds slowly builds until Maggie travels to their vacation home on a small Croatian island to mourn quietly. Strange things happen, and then she receives a letter from her husband. It's dated after his death and not from the family solicitor. It talks about his death and where she can find the key to unlocking the truth.
From there, the tale took off. As Maggie looks for answers, it seems others are too. They'll stop at nothing to keep their secrets. Danger, death, escape and twists kept me reading as Maggie uncovers something big with far-reaching implications.
Fans of thrillers, fast-paced action and conspiracies will want to pick up this thriller. The author did a great job of building the suspense and raised the stakes as the story progressed. Some twists and Maggie's clever thinking made for an engaging tale.
Fear The Silence by Robert Bryndza delivered a suspenseful thriller. #NewRelease #bookreview #books
Click To Tweet

Stay Caffeinated!
Never miss a post by adding Caffeinated to your Inbox
Related Posts