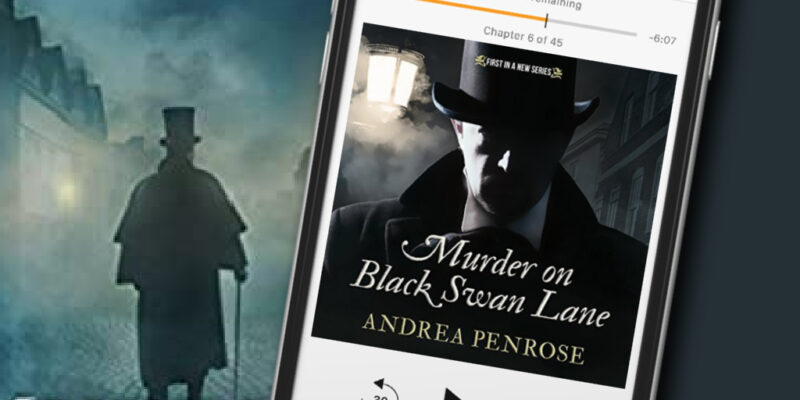 Narrated by James Cameron Stewart, Murder on Black Swan Lane by Andrea Penrose delivered a delightful historical mystery that had me scooping up all the audiobooks in the Wrexford & Sloane series. Come to Regency London and see for yourself….
Murder on Black Swan Lane
by Andrea Penrose
Series: Wrexford & Sloane #1
Narrator: James Cameron Stewart
Length: 11 hours and 50 minutes
Genres: Historical, Mystery
Source: Audible Plus
Purchase*: Amazon | Audible *affiliate
Rating:

Narration: 5 cups Speed: 1.5x

In Regency London, an unconventional scientist and a fearless female artist form an unlikely alliance to expose unspeakable evil . . .

The Earl of Wrexford possesses a brilliant scientific mind, but boredom and pride lead him to reckless behavior. He does not suffer fools gladly. So when pompous, pious Reverend Josiah Holworthy publicly condemns him for debauchery, Wrexford unsheathes his rapier-sharp wit and strikes back. As their war of words escalates, London's most popular satirical cartoonist, A.J. Quill, skewers them both. But then the clergyman is found slain in a church—his face burned by chemicals, his throat slashed ear to ear—and Wrexford finds himself the chief suspect.
There are currently seven novels in the Wrexford & Sloane series and I intend to devour them all. Why? Aside from the well-honed murder-mystery, it's the characters themselves. Romantic tension, banter, and strong secondary characters whom I've already grown attached to from the street urchins to the staff.
First up, the Earl of Wrexford, a man who enjoys explore scientific studies and can be quite the curmudgeon despite his age. I rather think he is softer on the inside. Next up is A.J. Quill, a political cartoonist who takes jabs at the upper crust and has a knack for depicting the truth. Mrs. Sloane, a young widow who is taking care of two street urchins. Then there is Wrexford's butler/valet and lab assistant, who isn't afraid to tell it like he sees it.
Now Wrexford has found himself the suspect in the murder of the pompous Reverend Josiah Holworthy. The two have traded barbs in the paper and Wrexford's disdain for him is well known. In order to avoid the noose, he'll need to find the actual killer, which leads him to the door of A.J. Quill, whose illustration of the murdered has piqued his curiosity. He is greeted by Mrs. Sloane and the tale that unfolds was positively delicious.
I loved the back-and-forth banter and the bargains that were struck as Sloane & Wrexford team up to collect clues and uncover the true murdered. The street urchins assist and I lost myself to the story with its clever twists and dangerous moments. Aside from a well-honed mystery, the characters themselves felt genuine, and I quickly wanted to spend more time with them.
James Cameron Stewart delivered a brilliant performance and brought these characters and story to life. I fully intend to continue the series on audio. He has a full range and even his female voices sounded genuine.
Fans of Regency London, murder-mysteries and sleuths will want to begin this series. Shout out to Sophia Rose, whose review of book two had me diving in.
*KindleUnlimited/WhisperSynced & the first two audiobooks are in the Audible Plus catalog.

Stay Caffeinated!
Never miss a post by adding Caffeinated to your Inbox
Reading this book contributed to these challenges:
Related Posts