The Untold Story by Genevieve Cogman is the eighth and final book in the Invisible Library series. Action-packed with reveals, twists and danger, Cogman held me captive from the first page. I hope we will see these characters again one day. If you long for adventure, mysteries, magic and romance, may I recommend you travel to the Invisible Library and ask for Irene.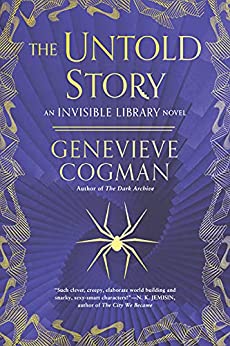 The Untold Story
by Genevieve Cogman
Series: The Invisible Library #8
Genres: Fantasy
Source: Library
Purchase*: Amazon | Audible *affiliate
Rating:
In this thrilling historical fantasy, time-traveling Librarian spy Irene will need to delve deep into a tangled web of loyalty and power to keep her friends safe.

Irene is trying to learn the truth about Alberich-and the possibility that he's her father. But when the Library orders her to kill him, and then Alberich himself offers to sign a truce, she has to discover why he originally betrayed the Library.

With her allies endangered and her strongest loyalties under threat, she'll have to trace his past across multiple worlds and into the depths of mythology and folklore, to find the truth at the heart of the Library, and why the Library was first created.
I read the last three books of this series, almost back to back, and loved immersing myself in this fantasy world. In this the last book, Irene is thrust into danger when the Library tasks her with bringing down Alberich off-books. According to them, she has gone rogue. Danger, betrayal and untold stories await you in this action-packed adventure that will ultimately take us into the heart of the library.
Outside forces from older dragon brothers to someone trying to stop Irene from learning the origins of the library kept Irene, Kai, and Vale on their toes. The story was fascinating and Cogman did a wonderful job of closing threads. I loved the untold stories and different ways that it was told. The trip to the library's heart was well done, and I could see it all unfolding.
I loved the relationship growth we witnessed between Kai and Irene. Vale and Kathryn were great help and loyal friends. We gain help from a familiar fae and travel to several alternate universes.
Because of the overall story arc and character development, I recommend reading this series in the order of its release. While each book contains a case, we gain knowledge that brought all the books together.
While things wrapped up, Cogman left the door open for more adventures and I am ready to travel back to the library but also excited to see what she brings us next.

Stay Caffeinated!
Never miss a post by adding Caffeinated to your Inbox
Reading this book contributed to these challenges:
Related Posts