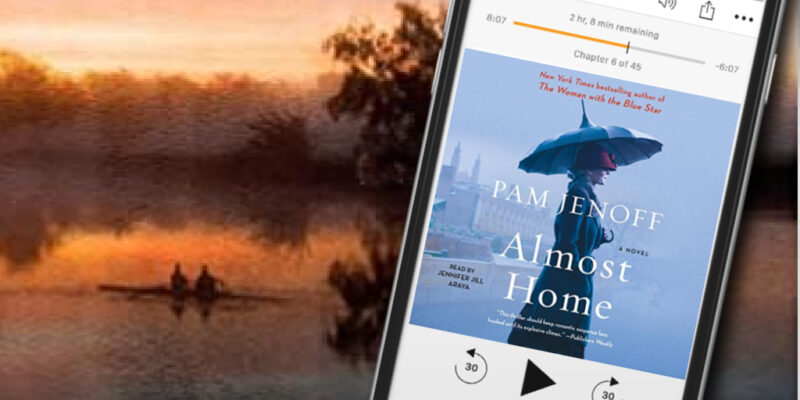 Narrated by Jennifer Jill Araya, Almost Home by Pam Jenoff is the first audiobook in the Jordan Weiss historical fiction series filled with mystery and romance tying the past and present. Despite some early struggles, you'll want to grab a hot cup of tea and curl up with this listen.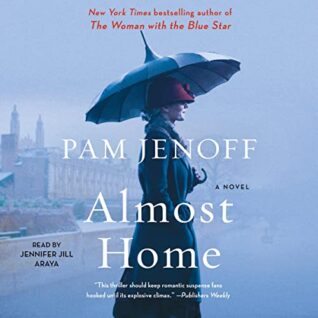 Almost Home
by Pam Jenoff
Narrator: Jennifer Jill Araya
Genres: Historical Fiction
Source: Publisher
Purchase*: Amazon | Audible *affiliate
Rating:

Heat Level:

Narration: 4.5 cups Speed: 1.5x

A breathtakingly poignant novel of suspense about a woman who must face a past she'd rather forget in order to uncover a dangerous legacy that threatens her future.

Ten years ago, U.S. State Department intelligence officer Jordan Weiss's idyllic experience as a graduate student at Cambridge was shattered when her boyfriend Jared drowned in the River Cam. She swore she'd never go back—until a terminally ill friend asks her to return. Jordan attempts to settle into her new life, taking on an urgent mission beside rakish agent Sebastian Hodges. Just when she thinks there's hope for a fresh start, a former college classmate tells her that Jared's death was not an accident—he was murdered.

Jordan quickly learns that Jared's research into World War II had uncovered a shameful secret, but powerful forces with everything to lose will stop at nothing to keep the past buried. Soon, Jordan finds herself in grave peril as she struggles to find the answers that lie treacherously close to home, the truth that threatens to change her life forever, and the love that makes it all worth fighting for. Fast-paced and impossible to put down, Almost Home establishes Pam Jenoff as one of the best new writers in the genre
I've enjoyed some of the authors' previous titles and was drawn to the synopsis of Almost Home. Ten years ago, U.S. State Department Intelligence Officer Jordan Weiss' graduation from Cambridge was met with tragedy when her boyfriend, Jared, drowned in the River Cam. Jordan swore to never return to England, but a letter from a dear, terminally ill friend prompts a transfer. She now works for the American Office in London and is paired with Agent Sebastian Hodges.
Her new assignment is critical, and her partner is devilishly handsome. She is adapting when an old classmate tells her he believes Jarad was murdered. The tale that unfolds takes place in the present, but chapters take us back to Cambridge, the row team and her relationship with Jared.
The mystery was fantastic and quickly pulled me in. Jordan worked to solve both cases, as past and present blended and blurred. I struggled in the beginning with Jordan. I expected a much more confident personality, especially as an intelligence officer, but Jordan second guessed everything, and seemed to walk on eggshells.
We get romance, secrets, twists and some nail-biting moments of intrigue and danger. The last third of the audiobook had me completely hooked, and the ending left me counting the days until the next audio release.
Jennifer Jill Araya narrates and did a wonderful job of capturing the characters, suspense and tone of the tale. I am hoping she continues on the next audio.

Stay Caffeinated!
Never miss a post by adding Caffeinated to your Inbox
Reading this book contributed to these challenges:
Related Posts