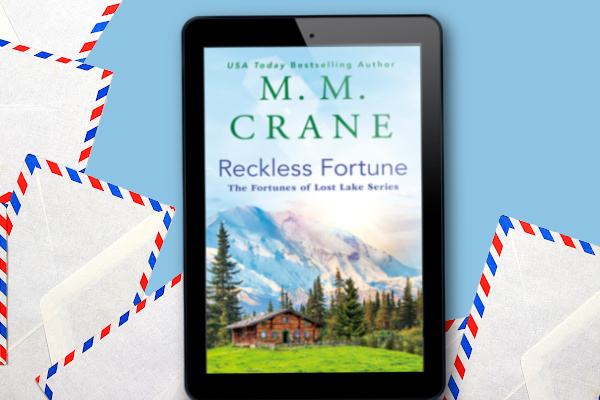 Reckless Fortune by M.M. Crane is the second standalone contemporary romance in the Fortunes of lost Lake, featuring the Fortune siblings in Lost Lake, Alaska. A contest to promote their town has bush pilot Bowie Fortune spending the summer with Autumn McCall thanks to a dare and the mail-order bride contest.
Reckless Fortune
by M. M. Crane
Series: The Fortunes of Lost Lake #2
Genres: Contemporary Romance
Source: Publisher
Purchase*: Amazon | Audible *affiliate
Rating:

Heat Level:
The heat between them is enough to ward off the chilly Alaska weather conditions in the next Fortunes of Lost Lake novel from USA Today bestselling author M. M. Crane.

Bowie Fortune has always liked a risky proposition. A bush pilot out in the Last Frontier, flying in and out of places that give most pilots nightmares is what he lives for. That and his off-the-grid home out by Lost Lake, where his family has been living up close with the elements for generations. When his sister dares him to participate in the local version of a mail-order bride contest, he's not interested--but Bowie doesn't back down from a challenge. Even when the challenge turns out to be a woman who makes him want every last thing he knows he shouldn't.

Entering a summer-long publicity stunt in far-off Alaska might seem extreme, but Autumn McCall has always had an indomitable spirit. She took care of her sisters and father after her mother died, and this is more of the same--since she intends to win the contest. Immersing herself in the pioneer lifestyle is one thing, but what she isn't expecting is brooding, sharp-eyed Bowie with his wicked smile. As the sparks fly between them, will they burn each other alive--or learn how to simmer their way to a much bigger prize...together?
A $10,000 prize and his sister's dare have Bowie agreeing to spending the summer with Autumn McCall in the local government's attempt to draw attention to Lost Lake, Alaska. Bowie, a former marine and bush pilot, is known as the reckless sibling and settling down isn't on the agenda. Autumn is the oldest sibling and has taken care of her father and her three siblings after the death of their mother. Now that Dad is remarried, she has one last task to accomplish before she can begin a life of her own.
Five reasons to curl up with Reckless Fortune
The premise of complete strangers spending the summer working and living together in Alaska will have you slipping right in to witness and enjoy each moment from their first meet.
Fantastic chemistry, awkward moments, rock hard abs and side grins will pull you into the story and have you laughing out loud. You'll love the banter, the view and find Autumn refreshing. I loved her attempts at wildness survival and attitude.
A red dress, a long kiss, and a camping trip will leave you sizzling and dreaming of your own Alaskan getaway.
Lost loves, undeniable feelings, family and friends delivered All The Feels.
Characters you'll love and circumstances that will tug at your heartstrings will have you reading into the wee hours for a happily ever-after.
While this is the second Fortunes of Lost Lake story, it can be read on its own, although I encourage you to read Bold Fortune. It was hilarious, with a delicious blend of sweet and steamy. You can read my review here.

Stay Caffeinated!
Never miss a post by adding Caffeinated to your Inbox
Related Posts