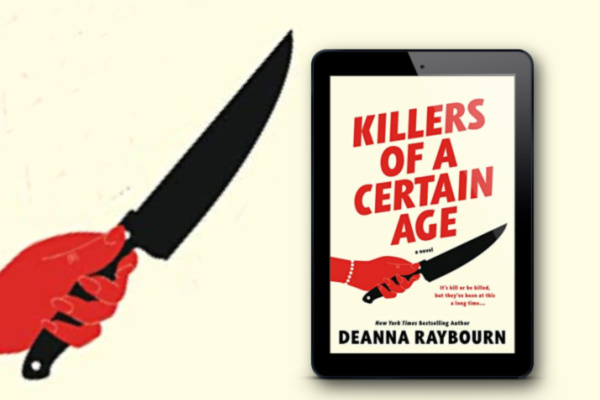 Killers of a Certain Age by Deanna Raybourn was immediately on my reading list because of my love of her Veronica Speedwell series. Billie, Mary Alice, Helen, and Natalie have worked as assassins for over forty-years for an organization known as the Museum. When things go awry on their retirement cruise, the girls are going to have to work together on one last operation. Humor, suspense and a clever mystery kept me flipping the pages…..
Killers of a Certain Age
by Deanna Raybourn
Genres: Mystery
Source: Publisher
Purchase*: Amazon | Audible *affiliate
Rating:
Older women often feel invisible, but sometimes that's their secret weapon.

They've spent their lives as the deadliest assassins in a clandestine international organization, but now that they're sixty years old, four women friends can't just retire - it's kill or be killed in this action-packed thriller.

Billie, Mary Alice, Helen, and Natalie have worked for the Museum, an elite network of assassins, for forty years. Now their talents are considered old-school and no one appreciates what they have to offer in an age that relies more on technology than people skills.

When the foursome is sent on an all-expenses paid vacation to mark their retirement, they are targeted by one of their own. Only the Board, the top-level members of the Museum, can order the termination of field agents, and the women realize they've been marked for death.

Now to get out alive they have to turn against their own organization, relying on experience and each other to get the job done, knowing that working together is the secret to their survival. They're about to teach the Board what it really means to be a woman--and a killer--of a certain age.
Raybourn knows how to weave a tale that pulls readers in and holds them to the very last page. The idea of the secret organization know only as the Museum was an element I enjoyed. The Museum works outside of government constraints to hunt down Nazis, restore stolen artifacts to their rightful owners and take down drug lords appealed.
The author skillfully delivered a story with unique, colorful characters and an engaging storyline. They are all on the cruise at the museums' expense. A farewell retirement send off if you will. While cooling off from a hot-flash, one discovers another operative on board and that can only mean one thing. Either they are on a mission (in which case they would have been told) or there to eliminate them. Since they weren't informed, the ladies assume the latter and devise a plan.
The story that unfolds was delightful. It's filled with suspense and action that has us trotting around the globe. The ladies use the skills they've learned to work together. The mission is clear. Find out why they've been targeted and devise a plan to get their lives back.
Well paced and suspenseful, Raybourn spun a clever tale that kept me guessing. As the four go about getting answers and eliminating threats, we learn about their training and previous cases. I absolutely loved all the details and connected with them. Each has their own skill set, baggage and opinions on the lives they've led.
I highly recommend this to fans of mysteries, secret organizations, mixed with strong characters, a little humor and a lot of action.
Killers of a Certain Age by Deanna Raybourn delivered a suspenseful, action-packed mystery thriller. A must read this fall. #NewRelease #bookreview
Click To Tweet

Stay Caffeinated!
Never miss a post by adding Caffeinated to your Inbox
Related Posts