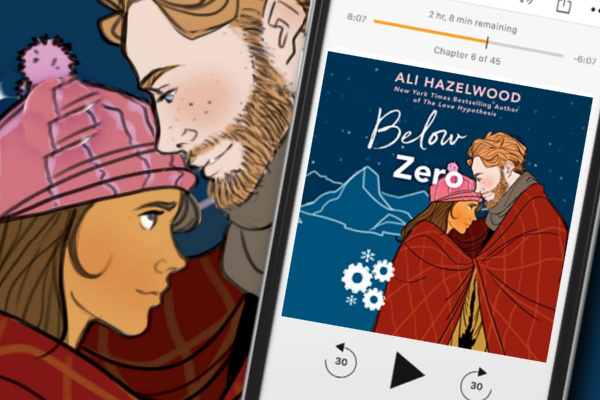 Below Zero by Ali Hazelwood, is the last novella in The STEMinist Novellas and shares aerospace engineer Hannah's story as it takes us to NASA and the dangerous landscape of the Arctic. Narrated by Savannah Peachwood, this romance between two space geeks will curl your toes.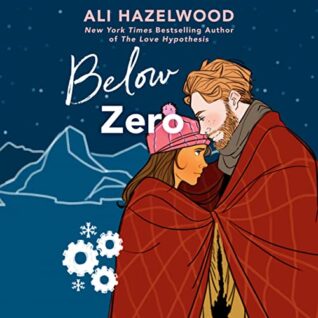 Below Zero
by Ali Hazelwood
Series: The STEMinist Novellas #3
Narrator: Savannah Peachwood
Length: 3 hours and 43 minutes
Genres: Contemporary Romance
Source: Publisher
Purchase*: Amazon | Audible *affiliate
Rating:

Heat Level:


Narration: 5 cups Speed: 1.3x

From the New York Times bestselling author of The Love Hypothesis comes a new steamy, STEMinist novella…

It will take the frosty terrain of the Arctic to show these rival scientists that their chemistry burns hot.

Mara, Sadie, and Hannah are friends first, scientists always. Though their fields of study might take them to different corners of the world, they can all agree on this universal truth: when it comes to love and science, opposites attract and rivals make you burn…

Hannah's got a bad feeling about this. Not only has the NASA aerospace engineer found herself injured and stranded at a remote Arctic research station—but the one person willing to undertake the hazardous rescue mission is her longtime rival.

Ian has been many things to Hannah: the villain who tried to veto her expedition and ruin her career, the man who stars in her most deliciously lurid dreams…but he's never played the hero. So why is he risking everything to be here? And why does his presence seem just as dangerous to her heart as the coming snowstorm?

To read Mara and Sadie's stories look for the novellas Under One Roof and Stuck with You available now from Berkley
This trilogy of novellas follows Mara, Sadie, and Hannah, three friends and scientist. The stories work on their own and feature one friend and their romance. However, I highly recommend listening to them in the order of their release.
Ever since Hannah saw the rover landing on Mars, she has wanted to work at NASA. During a PHD assignment, she interviews Mara's distant cousin, Ian, who works at NASA and was a part of the landing team. Their chat ends with some heated moment that they'll both think about late at night.
I found myself rooting for Hannah and Ian from almost the get go and wanting to slap them both in the back of the head, Gibbs style (NCIS). Hannah doesn't do relationships. She loves sex, but no one sticks around and she isn't about to put herself out there. Ian, on the other hand, while tall, ginger and sexy, has communications and experience issues. Told from Hannah's point of view, we are treated to her inner dialogue. It gives us insight and some laugh out loud moments. What a pair.
When Hannah lands her dream job at NASA, it looks like she might have a second chance with Ian, but when her proposal is shot down for funding, things take a turn. Thankfully, her direct boss has her back and helps her secure funds. Those funds take her to the Arctic for field testing. While the tale was light, it fed my inner nerd with talks of space and land rovers.
Will Hannah's project yield results? Is there any hope for Ian? The second half of the story brings danger, rescues, and peanut butter sandwiches. A sweet, geeky romance awaits you in this swoon-worthy, slow burn, sizzling romantic tale..
Savannah Peachwood delivers a delicious narration. She captures Hannah's fears and Ian's broody, awkward tones brilliantly.
I cannot wait for Ali Hazelwood's next release, Love on the Brain, which releases in August. I will definitely be listening. Her writing style works perfectly in audiobook format.
Narrated by Savannah Peachwoos, Below Zero by Ali Hazelwood delivers danger, rescues, and peanut butter sandwiches. #Romance #TheSTEMinistNovellas #NewRelease #Audiobook #audiobookreview
Click To Tweet

Stay Caffeinated!
Never miss a post by adding Caffeinated to your Inbox
Reading this book contributed to these challenges:
Related Posts