Sophia Rose is here with The Other Half of the Grave by Jeaniene Frost. Go back to the beginning in the Other Side of the Grave world. Come see why you'll love this trip down memory lane…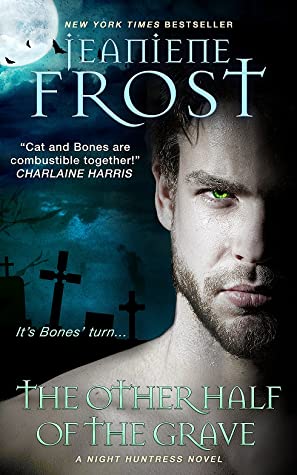 The Other Half of the Grave
by Jeaniene Frost
Series: Night Huntress #1.1
Genres: Urban Fantasy
Source: Publisher
Purchase*: Amazon | Audible *affiliate
Rating:

Heat Level:
From the New York Times bestselling author of the Night Huntress series comes a thrilling new look at the iconic origin story of Cat and Bones, as experienced by Bones…from the other half of the grave.

There are two sides to every story–and the sizzling British alpha vampire, Bones, has a lot to say…

Ever wondered what Bones was thinking and feeling when he and half-vampire Cat Crawfield first met? Or how their story might differ if he were the one telling it? Now, relive the beginning of Cat and Bones' bestselling love story through Bones' point of view, which reveals a darker, sexier take on their early days, as well as a deeper dive into Bones' past, the vampire world, and other things that Cat didn't see when their story was told only through her eyes in Halfway to the Grave.

Cat had her say. Now, it's Bones' turn.
Sophia Rose's Review
Jeaniene Frost brought readers back to the beginning and told how it happened from her vampire hero's perspective, but also from his background and his world.
The Other Side of the Grave is written so that newbies and veterans to the series alike can pick it up and enjoy it. Told parallel to Halfway to the Grave and a little of One Foot in the Grave, Bones' tale fits in well to read before, after, or hey, during the reading of those books from Cat's perspective.
Bones is an old master vampire and he's tracking down a vampire who can give him the intel he needs to solve a big vampire-related problem. But, just as he tracks down the guy, a human woman vampire hunter cuts off his access to information. However, in a stunning twist, he learns from the woman that she is in fact a rare half-breed who has no idea about his world and only a hard on to kill all vampires in a sad quest to get her messed up mom's love.
Ordinarily, Bones would make a quick end of a human killing his kind willy nilly, but he falls for the foul-mouthed brassy female from the beginning so decides to turn all that hate to his own advantage. He can't infiltrate some of the vampires he needs to question without sending them scurrying or unwilling to cough up the information he needs to finish his mission, but this gorgeous human-seeming female could waltz right in and simply look like luscious food.
So, the training begins and this mismatched pair reluctantly and provokingly come together as a partnership on more than one level.
The Other Side of the Grave was a fun waltz down memory lane. It has been years since I read the Night Huntress series particularly the Cat and Bones books. I found reading this freshened my memories, but gave fuller details than I remember the first time through. Cat had to learn about the vampire world that was half her heritage over the course of the series while Bones was already an older master vampire. Cat had to learn what was going on that Bones was investigating while the reader gets to see the case from the perspective of Bone's knowledge. And, it was absolutely the most exciting and fun thing to see their building relationship and romance through Bones' eyes.
Confession time, I loved the Night Huntress series while sometime barely tolerating Cat herself. I admired her gutsy nature that held strong and got up when she was beaten down, but not the stupid, unnecessary choices or big mouth behavior and stubbornness at the wrong moments. Switching perspectives makes a difference. This one felt darker and broodier because Bones isn't a young smart-mouthed hotshot, but I think it tempered the experience to just the right tone.
But, oh how sultry and sexy. This carried over in both books. Definitely the big money reason to have it from Bones' perspective. The vampire got me all hot and bothered right alongside Cat. Please say there is more coming…
All in all, it was just what I was hoping for and makes me want to pick up and re-read large portions of the early books. Urban Fantasy fans really should tick the Night Huntress series off their lists and already fans should not miss this parallel book that reflects' Bones' perspective.

Stay Caffeinated!
Never miss a post by adding Caffeinated to your Inbox
Related Posts