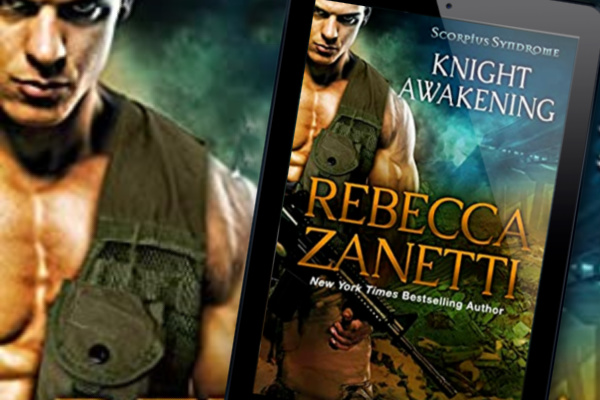 We are back with final installment in the Scorpius Syndrome series. Knight Awakening by Rebecca Zanetti is the sixth novel in this dark, sexy, romantic suspense set in a dystopian world. This continues the overall story arc and shares the romance of Marcus Knight.
Knight Awakening
by Rebecca Zanetti
Series: Scorpius Syndrome #6
Genres: Dystopian, Romantic Suspense
Source: Purchase
Purchase*: Amazon | Audible *affiliate
Rating:

Heat Level:
The Line Between Obsession and Love has Disappeared

The world has changed. Any rules that might've been in place before the Scorpius bacterium ripped through civilization and decreased its population are no longer in place. Obsession and survival are the new reality. So, Marcus Knight, after a hellish time in captivity that stole most of his memory and all of his soul, has one focus, and that's keeping Dr. Penelope Kim safe in the aftermath. She'd risked her life to save him once, and she's all that matters. For months, he's kept his distance, protecting her from afar, because he knows that one touch—one sigh—one kiss—from her will never be enough.

Passion is a Dangerous and Deadly Temptation

Penny Kim is one of the few doctors still living, and she alone holds the key to ensuring the human race continues. Several of her friends are pregnant, and the clock is ticking down on their survival. Her days are filled with experiments and hope, while her nights are consumed with visions and dreams of the hard-bodied and powerful soldier who's made her safety his one and only mission. She should be wary of him; she should be terrified of him. Yet all she feels is an unreal craving for his touch that gets stronger every day. Life is short, and she's unwilling to wait, unaware of the danger already hunting them both. Some risks are worth it, even in this new and dangerous world.
I pre-ordered this last year and then it sat on my Kindle. For shame, I know. I am sure some of you can relate? Please tell me I am not the only one who does this? Perhaps because it is the last in the series; I held out. Yep, let's go with that! LOL It does indeed close threads and bring the overall story ARC to an end. However, the possibility of more books or perhaps a spinoff remains.
The story picks up where Winter Igniting ends. I love the series and world Zanetti creates here with alpha men and the strong, smart and sassy women who fight and survive alongside them.
The Vanguard group has broken into one of the government bunkers where Marcus Knight, Jax's little brother, is found. He's been held captive and experimented on. Marcus has been through hell and back. The only thing that kept him from going insane has been Dr. Penelope Kim.
With Knight Awakening, things are not good for the Vanguard group. They have several pregnant women in group and more in the Pure (uninfected) group who need help. The syndrome effects births and they need to find a cure. Supplies are running low and there have been more attacks on their compound. The President and his army are out there and must be stopped. All of this made for some intense moments.
Marcus is broken and has formed an attachment to Penelope. I loved his neanderthal ways and felt sorry for him. His fear of hurting her or going berserk helped endear him to me. His concerns are not unfounded, and it will take Penelope's complete trust to help him overcome. The romance made me laugh and swoon with moments of frustration, heart-melting, and tenderness.
I love the interactions and camaraderie between members of the Vanguard compound from the not a shrink to the brothers. Zanetti's characters pull you in from the onset and have you rooting for them. You'll share their triumphs and cry for their losses.
This novel had a lot to accomplish, and it was strong until the last chapters. While I liked the outcome of the overall story arc, I felt like it all fell into place too quickly. The build up to their confrontation with the President and that evil witch of a woman unfolded so quickly, I thought I missed something. Despite the disappointed, the romance and conclusion left me grinning and eager for whatever Zanetti brings us from this world.
Knight Awakening delivered plenty of action, humor, romance and suspense in the final novel of the Scorpius Syndrome series.by Rebecca Zanetti #dystopian #romanticsuspense #ScorpiusSyndrome #bookreview
Click To Tweet

Stay Caffeinated!
Never miss a post by adding Caffeinated to your Inbox
Related Posts