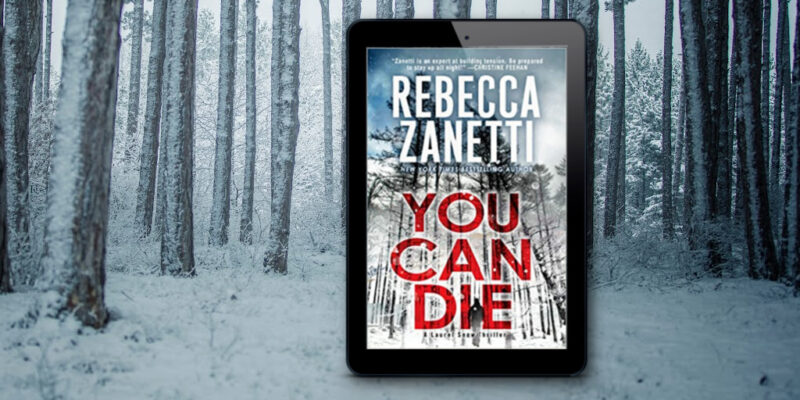 FBI Special Agent Laurel Snow is back in the third romantic suspense novel, You Can Die by Rebecca Zanetti. Snow returns from back East when she is called to the first of many grisly murder scenes. Come see why I enjoy this series and its cast of characters.
You Can Die
by Rebecca Zanetti
Series: Laurel Snow #3
Source: Publisher
Purchase*: Amazon | Audible *affiliate
Rating:

Heat Level:
Set against the atmospheric snowy backdrop of rural Pacific Northwest, New York Times bestselling author Rebecca Zanetti's thrilling suspense series follows FBI Special Agent Laurel Snow as she strives to navigate her complicated family life when the father Laurel never knew turns up dead as the latest victim in a series of murders targeting men in the area. But solving his murder and the rest of the killings might be harder than she antcipates if her sociopathic half-sister has any say in the matter. The Blacklist meets The Profiler meets Justified in this fast, page-turning thriller that will have readers guessing until the very end!

It's an especially deadly winter in the Pacific Northwest, as rising star FBI profiler Laurel Snow hunts down a serial killer with a chillingly bitter M.O., in New York Times bestselling author Rebecca Zanetti's edgy thriller . . .

Men are dying in the Pacific Northwest, their bodies found near churches, charities, and counseling centers--each with valentine candy hearts shoved down their throats. They're good men with families and community ties--or so they seem until Laurel Snow and her team begin to investigate. Then the case takes a shockingly personal turn when the father she's never met, a former pastor, turns up among the dead.

Now, besides solving her father's murder, Laurel is on the hunt to discover the truth of his past. Complicating things is Laurel's troubled half-sister, Abigail, a brilliant sociopath determined to prove that they've both inherited their father's malignant narcissism.

Assisting Laurel is Washington Fish and Wildlife Captain Huck Rivers, a dangerous loner whose reliance on gut instinct puts him at odds with Laurel's coolly analytic approach. But the choice may be moot when the killer hones in on Huck's own dark secrets--putting him and Laurel squarely in the crosshairs.
In You Can Die, Laurel and the team learned they have approval for their satellite office. Which means ordering a proper desk and another agent. All of that will have to wait because we have a serial killer on the loose.
Someone is killing men who all seem to have ties to a law firm, but Laurel will need to dig for the motive. This was an interest case with plenty of suspects, including Snow's sister, but the how and why isn't clear. Someone from Snow's past is back in town and things get complicated.
I enjoy FBI Special Agent Laurel Snows' mind and how she operates. Some might find her cold, but Washington Fish and Wildlife Captain Huck Rivers, see her. We see some major development in the romance department, although it takes a backseat to the demanding investigations and danger.
The series arc concerning her half-sister gained some ground but also came with more questions. The woman is scary and brilliant. Snow will have to outfox her to bring her to justice.
Zanetti gave us an interesting case with plenty of suspects as she slowly gave us breadcrumbs, red herrings, and twists. I admit I did not figure out the killer, but once revealed, it all clicked into place.
Fans of murder-mystery and suspense with a dash of romance will enjoy this series. Despite each novel having a case resolved, I recommend reading them in order. There is an overall arc concerning Snow's sister and the romantic elements will be appreciated more from the beginning.
You Can Die by Rebecca Zanetti is the third novel in the Laurel Snow series filled with murder-mysteries, secrets and romance. #NewRelease #bookreview
Click To Tweet

Stay Caffeinated!
Never miss a post by adding Caffeinated to your Inbox
Related Posts