I love the Innkeeper Chronicles by Ilona Andrews and have patiently waited for each installment to release on audio despite the author duo's chapter releases. When the opportunity came to re-listen to Clean Sweep from Graphic Audio, I couldn't resist listening to their dramatized adaption. It was fun revisiting this first in series with sound effects.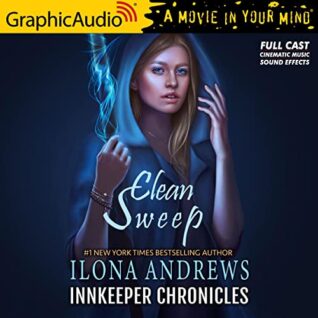 Clean Sweep
by Ilona Andrews
Series: Innkeeper Chronicles #1
Narrator: Alejandro Ruiz, Christopher Walker, Holly Adams, James Lewis, Karen Novack, Ken Jackson, Nora Achrati, Peter Holdway, Elias Khalil, Ryan Reid, Alex Hill-Knight
Length: 5 hours and 59 minutes
Source: Publisher
Purchase*: Audible *affiliate
Rating:

Narration: 4 Speed: 1.2x

On the outside, Dina Demille is the epitome of normal. She runs a quaint Victorian Bed and Breakfast in a small Texas town, owns a Shih Tzu named Beast, and is a perfect neighbor, whose biggest problem should be what to serve her guests for breakfast.

But Dina is...different: Her broom is a deadly weapon; her Inn is magic and thinks for itself. Meant to be a lodging for otherworldly visitors, the only permanent guest is a retired Galactic aristocrat who can't leave the grounds because she's responsible for the deaths of millions and someone might shoot her on sight. Under the circumstances, ""normal"" is a bit of a stretch for Dina. And now, something with wicked claws and deepwater teeth has begun to hunt at night....

Feeling responsible for her neighbors, Dina decides to get involved. Before long, she has to juggle dealing with the annoyingly attractive, ex-military, new neighbor, Sean Evans - an alpha-strain werewolf - and the equally arresting cosmic vampire soldier, Arland, while trying to keep her inn and its guests safe. But the enemy she's facing is unlike anything she's ever encountered before. It's smart, vicious, and lethal, and putting herself between this creature and her neighbors might just cost her everything.
This is what I had to say after my first listen:
The world is fascinating in that magic on Earth is contained in these magical inns scattered all over the Earth. Supernatural creatures come from space to visit Earth and stay at these inns. Cool right?!? I love magical homes, inns, and castles that become almost characters themselves. A keeper runs each inn and Dina, our protagonist, is an innkeeper. They protect the guest, keep humans from learning about them and remain neutral during times of dispute, war etc. Poor Dina does not have the luxury when her town is threatened. Oh boy!
The romantic prospects come from two suitors. One might infer a love triangle, but it is not developed enough to cast labels and Dina clearly lets us know whom she favors with a running thought commentary in her head that I found hilarious. We have Arland and Sean, an alpha werewolf, vying for her attentions and aiding with the threat to both inn and community. Andrews weaved in snark, made the male figures alluring and humorous for our benefit.
Now let's talk about the dramatized adaption:
Graphic Audio gives us a full cast narration performed by Nora Achrati, Ryan H. Reid, Alex Hill-Knight, Karen Novack, James Lewis, Elias Khalil, Christopher Walker, Alejandro Ruiz, Peter Holdway, Holly Adams, Ken Jackson, John Kielty, Darius Johnson, Nicole Perez, Joe Mallon, Keval Shah, KenYatta Rogers, Duyen Washington, Kelly Baskin, Steve Wannall, Christopher Graybill, Nickolette Kong, K'Lai Rivera, Laura C. Harris, Martin Dickinson, Jessica Lauren Ball, and Bradley Foster Smith. Talk about a full cast!
The audio includes sound effects from musical interludes to Dina sipping her coffee. Turn on a TV show, then turn around and listen to the show without being able to see the screen. This is the effect you get. I worried it would overwhelm the senses and detract from the story, but it ended up being fun. I think perhaps if it was my first listen it might have felt distracting, but since I have previously read and listened to Clean Sweep, I simply had fun with it.
The dramatization brought the inn and battles to life. The whole Costco scene with displays turning over and spells flying was brought to life, as were the inns' expanding walls and accommodations.
I loved that the narration was done by a full cast. Each narrator brought their characters to life and enhanced the listen, making this the perfect edition to your audible library.
Clean Sweep by Ilona Andrews Dramatized Adaptation brings a full cast and sound effects to the Innkeepers Chronicles #urbanfantasy #audiobook #audiobookreview
Click To Tweet

Stay Caffeinated!
Never miss a post by adding Caffeinated to your Inbox
Reading this book contributed to these challenges:
Related Posts