Sophia Rose is here with a holiday read. An Irish Country Yuletide by Patrick Taylor. Grab some peppermint cocoa and slip away to a small Northern Ireland village for Christmas.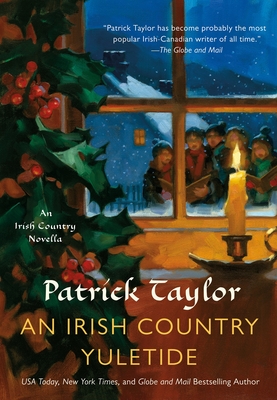 An Irish Country Yuletide
by Patrick Taylor
Series: Irish Country #16
Source: Publisher
Purchase*: Amazon | Audible *affiliate
Rating:
A charming Christmas entry in Patrick Taylor's beloved internationally bestselling Irish Country series, An Irish Country Yuletide.

December 1965. 'Tis the season once again in the cozy Irish village of Ballybucklebo, which means that Doctor Fingal Flahertie O'Reilly, his young colleague Barry Laverty, and their assorted friends, neighbors, and patients are enjoying all their favorite holiday traditions: caroling, trimming the tree, finding the perfect gifts for their near and dear ones, and anticipating a proper Yuletide feast complete with roast turkey and chestnut stuffing. There's even the promise of snow in the air, raising the prospect of a white Christmas.

Not that trouble has entirely taken a holiday as the season brings its fair share of challenges as well, including a black-sheep brother hoping to reconcile with his estranged family before it's too late, a worrisome outbreak of chickenpox, and a sick little girl whose faith in Christmas is in danger of being crushed in the worst way.

As roaring fireplaces combat the brisk December chill, it's up to O'Reilly to play Santa, both literally and figuratively, to make sure that Ballybucklebo has a Christmas it will never forget!

Bonus: This heartwarming Yuletide tale also includes several mouth-watering recipes, straight from an Irish country kitchen.
Sophia Rose's Review
Christmas in a small Northern Ireland village for a country doctor and the friends he has made over the years seemed just the thing. Until I spotted this book, I was unfamiliar with the Irish Country Doctor series, but a warm, cozy story and characters in the Irish village setting in the days before tech took over begged me to reach for the book and settle in near the fire with my blanket and my hot drink.
An Irish Country Yuletide is the sixteenth release in this long-standing series about an irascible country doctor to the Irish village of Ballybucklebo in County Down. It worked fine as a standalone. I noticed as I was perusing the earlier books that the series begins years earlier, but hops around in time to go back for the early days with some characters. It has a meandering approach to everyday events for a country doctor and the village so it was easy to slip into this segment of their lives during the 1965 Christmas season.
Doctor Fingal O'Reilly is the middle-aged doctor who has recently married his long-time sweetheart in a second chance romance, lives in a comfortable house attached to his examination rooms, and employs a housekeeper-cook, Maureen 'Kinky' Kincaid of many years. Kinky is newly engaged to the milkman. And, Fingal gets a wonderful early holiday gift when his younger associate, Barry Laverty, leaves specialized medicine in the city to rejoin him in country practice and his new fiancée'.
However, before they can all settle into the Yuletide festivities, the local lord of the manor must have Fingal's help welcoming home the prodigal brother who, is gravely ill. And, Barry must help a young girl suffering from chicken pox and the grief of her parents recent separation find some Christmas cheer and maybe a miracle from Santa.
An Irish Country Yuletide introduced colorful, quirky characters, the Irish country village, and Irish Christmas celebrations. Most of the story is Northern Irish customs and people, but Kinky and the new little girl Jilly and her family are County Cork so there were a few regional phrases, holiday customs, and attitudes. There are some country doctoring going on, but mostly the focus was on the people and their preparations for the holidays and making things right within the MacNeil family as well as memories of time gone by. Fingal receives a packet of his old letters to Kitty when they were first dating and it was neat to see how their romance grew in the beginning. I always felt hungry because Kinky's delicious food was described in mouth-watering detail when she served up whether at home for the holidays or the community parties.
It was a gentle, comfy piece that exuded the holiday spirit and makes me want to go back to the beginning for all the earlier stories of life as a country doctor in Northern Ireland of the 30's through the 60's. Those who enjoy rustic life and everyday happenings, soft-colored situation and settings should definitely give these historical fictions a go.

Stay Caffeinated!
Never miss a post by adding Caffeinated to your Inbox