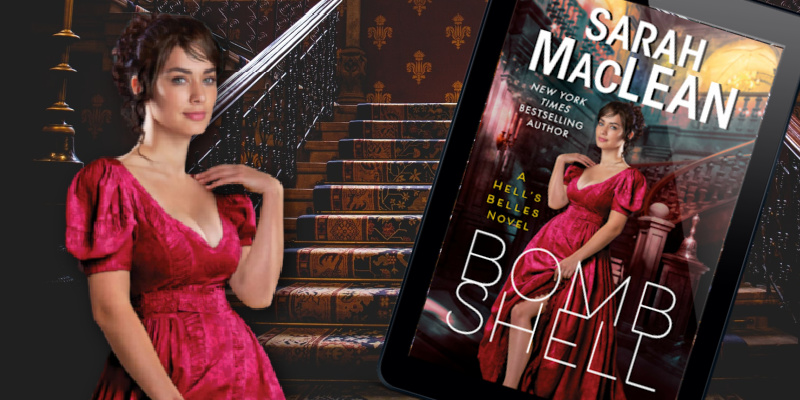 I love slipping into one of Sarah MacLean's historical romances. Her characters quickly pull me in. Bombshell is the first novel in the Hell's Belles series and this story belongs to Lady Sesily Talbot and her sister's business partner American, Caleb Calhoun. Swoons, suspense, heat and kickassery await you....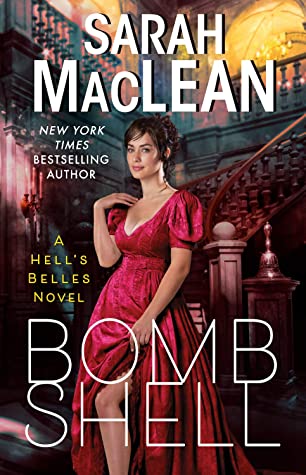 Bombshell
by Sarah MacLean
Series: Hell's Belles #1
Genres: Historical Romance
Source: Publisher
Purchase*: Amazon | Audible *affiliate
Rating:

Heat Level:
New York Times bestselling author Sarah MacLean returns with a blazingly sexy, unapologetically feminist new series, Hell's Belles, beginning with a bold, bombshell of a heroine, able to dispose of a scoundrel—or seduce one—in a single night.

After years of living as London's brightest scandal, Lady Sesily Talbot has embraced the reputation and the freedom that comes with the title. No one looks twice when she lures a gentleman into the dark gardens beyond a Mayfair ballroom…and no one realizes those trysts are not what they seem.

No one, that is, but Caleb Calhoun, who has spent years trying not to notice his best friend's beautiful, brash, brilliant sister. If you ask him, he's been a saint about it, considering the way she looks at him…and the way she talks to him…and the way she'd felt in his arms during their one ill-advised kiss.

Except someone has to keep Sesily from tumbling into trouble during her dangerous late-night escapades, and maybe close proximity is exactly what Caleb needs to get this infuriating, outrageous woman out of his system. But now Caleb is the one in trouble, because he's fast realizing that Sesily isn't for forgetting…she's forever. And forever isn't something he can risk.
This is a brand new series, but for fans of MacLean, you will be treated to plenty of Easter Eggs and beloved characters.
American Caleb Calhoun is half partner in the Silver Swan with the now Duchess of Haven. He has a thing for her sister, Lady Sesily Talbot. So much so that he left London two years ago. He is back to help the Duchess as she prepares to give birth. He fully intends to avoid Sesily, but when he spies her enter the gardens with another man, he cannot help but follow… all of which leads to a kiss…one kiss.
Sesily Talbot along with a group of ladies who call themselves the Hell's Belles are up to something. Encouraged by the Duchess Calhoun keeps tabs on Sesily, who is keeping secrets, but she isn't the only one.
I loved Sesily and the rest of the women who make up the Hell's Belles. These ladies are secretly making waves and affecting the lives of other women. Knives, breaking and entering, whatever it takes to right the wrongs within their society. The group is made of women from all social ranks and I loved what they are doing. A few standout characters have me eager for their stories. I chuckled at some punishments they doled out and how they aided Caleb and Sesily.
Caleb's secret and his desire to do what was right to protect those he cares for made him swoon-worthy. He needed to learn to trust Sesily and her friends. Their chemistry was off the charts and we were treated to some rather steamy scenes. Sesily knows her own mind, and I loved that about her.
Whether you are a newcomer to this author or a diehard fan like myself, Bombshell delivered from the storyline to the romance and I cannot wait for the next novel in the Hell's Belles series.
Thank you, Ms. MacLean for finally giving us their story. It was worth the wait. The author once again reminds me why I enjoy historical romance.
Bombshell by Sarah MacLean delivered a swoon-worthy tale, the first featuring the Hell's Belles women and the men who dare to love them. #NewRelease #HistoricalRomance #HellsBelles
Click To Tweet

Stay Caffeinated!
Never miss a post by adding Caffeinated to your Inbox
Related Posts