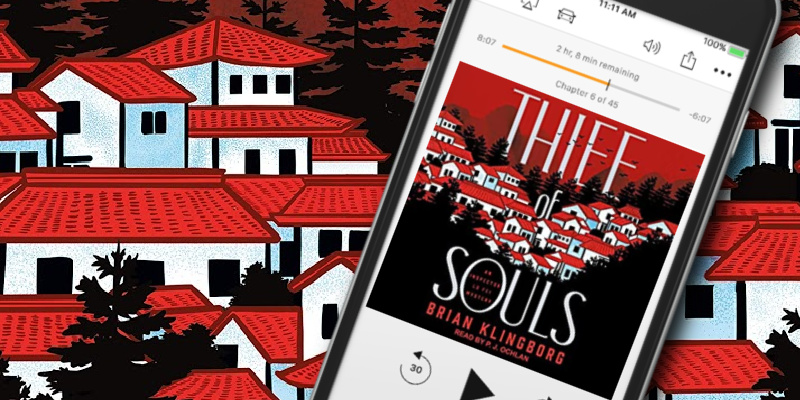 Please welcome Sophia Rose back to the blog with the first audio in the Inspector Lu Fei Mystery series, Thief of Souls. Grab a cuppa and find out why you'll want to travel to the People's Republic of China, to a small town in the north.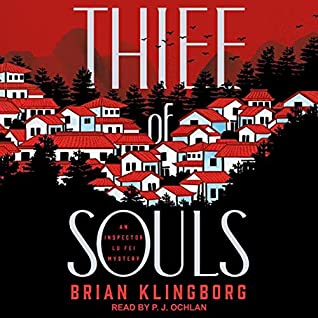 Thief of Souls
by Brian Klingborg
Series: Inspector Lu Fei Mystery #1
Narrator: P.J. Ochlan
Length: 10 hours and 53 minutes
Genres: Mystery
Source: Publisher
Purchase*: Amazon | Audible *affiliate
Rating:

Narration: 4.5 cups Speed: 1.0x

The brutal murder of a young woman in a rural village in Northern China sends shockwaves all the way to Beijing - but seemingly only Inspector Lu Fei, living in exile in the small town, is interested in justice for the victim.

Lu Fei is a graduate of China's top police college but he's been assigned to a sleepy backwater town in northern China, where almost nothing happens and the theft of a few chickens represents a major crime wave. That is until a young woman is found dead, her organs removed, and joss paper stuffed in her mouth. The CID in Beijing - headed by a rising political star - is on the case but in an increasingly authoritarian China, prosperity and political stability are far more important than solving the murder of an insignificant village girl. As such, the CID head is interested in pinning the crime on the first available suspect rather than wading into uncomfortable truths, leaving Lu Fei on his own.

As Lu digs deeper into the gruesome murder, he finds himself facing old enemies and creating new ones in the form of local Communist Party bosses and corrupt business interests. Despite these rising obstacles, Lu remains determined to find the real killer, especially after he links the murder to other unsolved homicides. But the closer he gets to the heart of the mystery, the more he puts himself and his loved ones in danger.
Sophia Rose's Review
When a murder happens in a small backwater Chinese town, Deputy Inspector Lu Fei is called in on his night off to begin the investigation. Battling bureaucracy, hidden agendas, and the distinguished investigative team out of Beijing who all want a quick arrest, Lu carefully tracks witnesses and evidence one bit at a time.
Thief of Souls intrigued me as soon as I knew it was set in the People's Republic of China in a small town in the north and that the detective was Chinese. I settled into the story carefully narrated by Lu Fei. He was a world-weary sort and middle-aged. He was trained and had experience in big-city police work, but was sent to the boonies because he's a straight arrow and wouldn't stand silently for the corruption of a fellow officer who had clout. He has a fun, dry-humored relationship with his boss and a secret crush on Yan-Yan, the local bar owner.
It was interesting seeing how they did police work in China, but also social customs, family, and more. I thought that was folded into the story so well that there were no info dumps, nor was I confused by how something was done or why.
As to the mystery, it had me stumped for a bit and then suddenly I knew who it was well before the big reveal. Not that this took away from the book because I was eager to see how they would catch the killer and then there was the suspense when the killer started stalking and captured his next victim and there was a race against time to get the killer before they finished off their victim.
As to narration, I was expecting a narrator with a Chinese accent, but then I settled in and really enjoyed my first time listening to P. J. Ochlan. He gave distinct personality to the large cast of characters he voiced, and I liked his Lu Fei in particular.
All in all, it was a great start to the series and I can't wait for more Inspector Lu Fei on the job. Those who enjoy mysteries in an International setting should definitely consider this one.
Thief of Souls by Brian Klingborg was a great start to the series. #audioook #JIAM #LoveAudiobooks #mystery #InspectorLuFei #guestreview #SophiaRose
Click To Tweet

Stay Caffeinated!
Never miss a post by adding Caffeinated to your Inbox
Related Posts