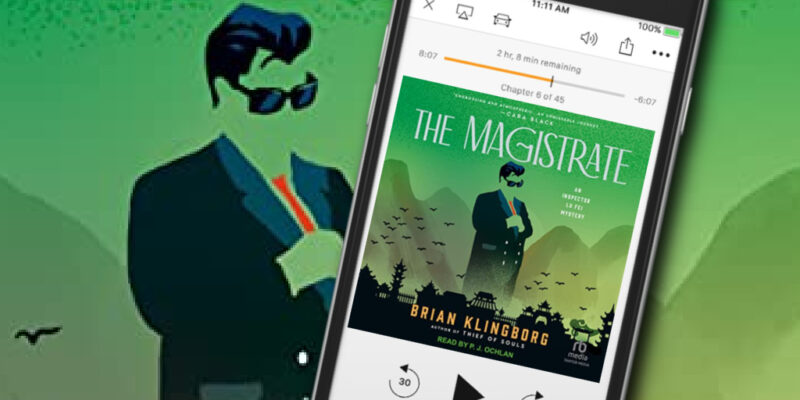 Sophia Rose is here with The Magistrate by Brian Klingsborg. Narrated by P.J. Ochlan this is third Inspector Lu Fei Mystery. Come see why it really got to her….
The Magistrate
by Brian Klingborg
Series: Inspector Lu Fei Mystery #3
Narrator: P.J. Ochlan
Length: 11 hours and 7 minutes
Genres: Mystery
Source: Publisher
Purchase*: Amazon | Audible *affiliate
Rating:

Narration: 4.5 cups Speed: 1.2x

A brutal murder investigation with connections to corruption at the very highest level threatens not just the career but also the life of Inspector Lu Fei in Brian Klingborg's latest mystery . . .
Sophia Rose's Review
Deeper and darker than the previous installments with government corruption and human trafficking at the heart of this latest investigation for modern Chinese police Inspector Lu. I stumbled upon the first book, but have since then eagerly anticipated each new release in a series that gives audio listeners a peek inside the Communist China world following straight arrow Inspector Lu's detecting adventures.
The Magistrate is the third installment in the series. The mystery is standalone, but the backdrop of the characters particularly Lu Fei have built from book one so I recommend these in order.
The Magistrate finds Inspector Lu facing his usual struggles in Raven Valley as a small city police detective with plans to marry a local barkeeper and concerns about one of his officers who plans to leave the force to marry a guy Lu Fey isn't keen about. Then he lands a case for a killing that isn't the typical local crime and has all the earmarks of dragging Lu into something bigger and darker. The trail leads back to his former city, Harbin, and to the police precinct he was forced to leave because of the corruption there he wasn't willing to turn a blind eye to or join in on. Because of his need to walk the straight and narrow and not having anyone with powerful clout protecting or backing him, his work is a constant tightrope balance. Never more than this time around when his poking about and discovery that the killer, stylizing as The Magistrate, is part of a plot with massive ramifications and Lu faces a lethal threat personally when he is framed for murder in a judicial system where there is no 'innocent until proven guilty' or 'fair trial', but full of vice and often antiquated methods.
As I said, this one went darker than I anticipated. It was too much for me at times. North Koreans fleeing intolerable living conditions only to find that their misery got worse when they reached China into the hands of traffickers who work with corrupt officials to go about their filthy business. The violence was gritty and what was going on was brutal at times. No one, not even Inspector Lu comes through pristine. This is old style noir in some ways. And, this read more like a thriller- the second book had shades of this, too.
I wasn't expecting this to take that tone and I had to adjust from my thinking that I was going to get more straight up investigation. My heart was broken by so much I was hearing, but I was really behind Lu Fey more than ever as he stands like a light standard in the dark (probably unrealistic in the climate he's working, but I needed something bright and hopeful to grasp).
Speaking of something bright, I do love the way Lu takes protective care of his police team and his special down time with Yanyan. There is some amusing witting dialogue exchanges with him and others, too.
I've listened to the series on audio so I am used to and like PJ Ochlan's narration work. He is smooth through the cultural words and talented with the distinct members of the character cast. He brought the storyline to life and kept me right in the moment.
All in all, I'm still reeling from this one and it will stick with me a bit after because of the darker content. For most, the next book will be a must-listen/read, but I might have to wait and see if it's one I can handle. I definitely recommend this wonderful series that is strong on culture and feels authentic with a good twisting mystery and unique characters.

Stay Caffeinated!
Never miss a post by adding Caffeinated to your Inbox
Related Posts