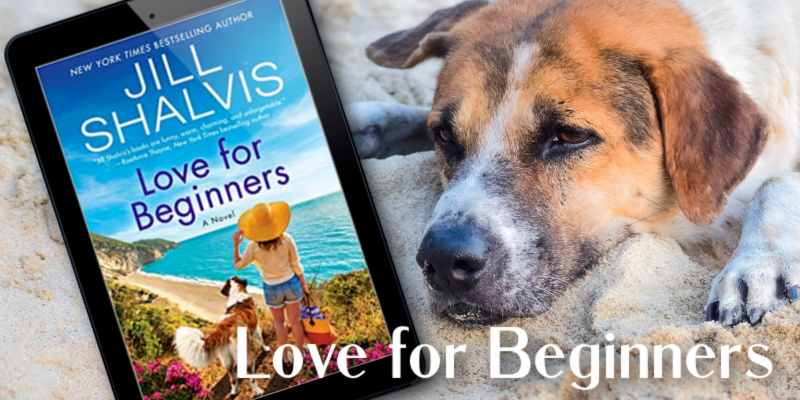 Love for Beginners is the seventh novel in the Wildstone series by Jill Shalvis. Each book will work on its own and are set in the coastal town of Wildstone. Emma Harris may feel like she has lost everything when she awakens from a coma, but she'll soon discover that starting over can be bliss…
Love for Beginners
by Jill Shalvis
Series: Wildstone #7
Genres: Contemporary Romance
Source: Publisher
Purchase*: Amazon | Audible *affiliate
Rating:

Heat Level:

What would you change if you had to start your life—and love life—over again?

When Emma Harris wakes up from a coma she learns that her fiancé and her BFF have fallen in love, she's lost her job, and the life she knew is gone. Overwhelmed but grateful to be alive she starts over from scratch. Not as easy as it sounds, of course. But she's never been a quitter, even if she wishes she could quit rehab, where her hot but evil physical therapist, Simon, puts her through the wringer.

Eager for a new beginning, Emma opens a doggy day care. Unfortunately, the only space she can afford is owned by her childhood nemesis Ali Pratt. But hey, she's been through worse, right? She tries to roll with the punches, but a friend drops his grandpa off at the doggy day care in desperation then on top of that, she and Ali bring the term 'frenemies' to a whole new level. And then another grandparent shows up. And another.

In the midst of all that, Emma realizes she's accidentally fallen for Evil PT. But the most horrifying thing of all is that Ali just might have turned into the best friend she's ever had. And as Emma grows from the pain of her past and takes on her new path, she comes to realize that life isn't what you're given, it's what you make of it.
I have been enjoying the Wildstone series from its coastal setting to the characters we have met along the way. Each of the novels works on its own, from story to romance. In this tale we meet Emma Harris who wakes from a coma after being struck by a car while out running. While she beat the odds, it seems her BFF and fiance are now an item and life as she knew it has changed. It's a time of new beginnings, but first she'll need to overcome her physical limitations. Not to worry, Simon, her evil physical therapist, has no intentions of letting her fail.
I loved this story from the flunk-out support dog to Simon's ornery dad. Shalvis has a gift for creating characters and situations that pull you in, tug at your heartstrings, make you swoon and leave you smiling. Love for Beginners had these elements.
Rose suffers survivors' guilt, but is also determined to succeed. When her boss at the local doggy day care retires, Emma wants to buy the business, but that involves getting approval from her childhood nemesis Ali Pratt. I loved their back-and-forth banter and the secondary story involving Alison.
Simon loved his job as a therapist, but is juggling running his Dad's business and home care needs. Simon is a sweetie who doesn't know his own worth but takes care of those he loves. The chemistry between him and Rose was fun, sweet, and sizzled. I enjoyed watching their relationship develop, even if the hot and cold vibe drove me crazy.
From its small-town feel to the cute critters, Shalvis left me smiling and looking forward to returning to Wildstone.
Love for Beginners by Jill Shalvis is the perfect feel good beach romance. #NewRelease #MustRead #Wildstone
Click To Tweet

Stay Caffeinated!
Never miss a post by adding Caffeinated to your Inbox
Related Posts