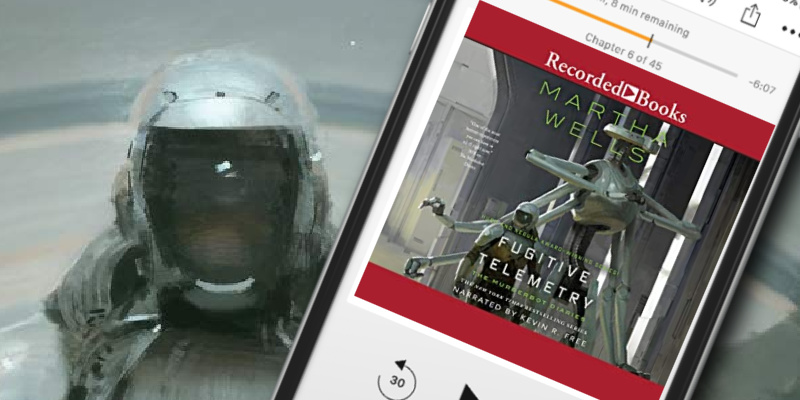 It's no secret that I love Martha Wells' Murderbot Diaries narrated by Kevin R. Free. The stories are a delight to listen to from the mysteries, to Murderbot's interpretation and interactions with humans and other artificial intelligence. While Fugitive Telemetry takes us back through the timeline, it offered a murder-mystery that kept me guessing.
Fugitive Telemetry
by Martha Wells
Series: The Murderbot Diaries #6
Narrator: Kevin R. Free
Genres: Science Fiction
Source: Purchase
Purchase*: Amazon | Audible *affiliate
Rating:

Narration: 5 cups Speed: 1.3x

No, I didn't kill the dead human. If I had, I wouldn't dump the body in the station mall.

When Murderbot discovers a dead body on Preservation Station, it knows it is going to have to assist station security to determine who the body is (was), how they were killed (that should be relatively straightforward, at least), and why (because apparently that matters to a lot of people—who knew?)

Yes, the unthinkable is about to happen: Murderbot must voluntarily speak to humans!

Again!
Fugitive Telemetry takes place between Exit Strategy and Network Effect. It offers up a murder mystery and rescue. Murderbot discovers a dead body at the Preservation Station and assists station security with the who, what, where and why of the investigation.
The novella is slightly different, from the time jump to the focus on the case. We see Mensah and others from the Preservation Survey but the story centers on Murderbot. The investigation and his interactions with station security are the primary focus. It was fascinating watching their dynamics and Murderbot react to their distrust. Particularly since Murderbot's relations with humans on the station have strengthened.
While we didn't gain any new insight, the murder mystery itself was an intriguing one and Wells kept me guessing. When the murderer was revealed, all the pieces clicked, leaving me impressed.
Kevin R. Free is the voice of Murderbot. I could not imagine enjoying these stories in any other format. I am excited that Tor obtained three additional Murderbot Diaries and hope we continue to see them on audio.
Fugitive Telemetry by Martha Wells delivered an intriguing mystery as Murderbot interacts with the local AI. #KevinRFree #Audiobook #JIAM #LoveAudiobooks
Click To Tweet

Stay Caffeinated!
Never miss a post by adding Caffeinated to your Inbox
Reading this book contributed to these challenges:
Related Posts