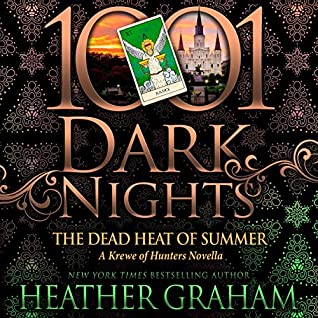 The Dead Heat of Summer
by Heather Graham
Series: Krewe of Hunters #32.5
Narrator: Paul Boehmer
Length: 4 hours and 53 minutes
Genres: Paranormal, Romantic Suspense
Source: Publisher
Purchase*: Amazon | Audible *affiliate
Rating:

Narration: 4 cups Speed: 1.3x

Casey Nicholson has always had what her grandmother calls 'The Touch.'

It runs in her family.

But even so, she isn't prepared for the ghost in the old Nola graveyard who comes to her shedding tears that she can almost touch. She knows she'd been the victim of a malicious murder and fears now for her infant daughter and her sister, left to care for the baby.

The ghost is Lena Marceau, the tragic young woman who had married into the fabulously wealthy Marceau family of New Orleans. Her husband had died tragically and mysteriously just the year before and Lena is convinced that they were murdered by someone with an agenda, most likely to take over Marceau Industries, an architectural and engineering company dating back to French rule in the city.

Casey isn't at all sure how she can help Lena. She isn't an investigator or with any form of law enforcement. She has an art shop and reads tarot cards and tea leaves on Jackson Square and in her little shop.

But when she receives a visit from a tall, dark - and very handsome - stranger, she realizes that she's being drawn into a deadly game where she must discover the truth or lose her own life in the trying.

Ryder McKinley, Special Agent with the Krewe of Hunters, has his own strange connection to the case. In New Orleans to solve the murder and protect the child, he has arrived at Casey's shop on the hunt for the ghost of his murdered cousin. He fears the fact that Casey's involvement puts her in danger, yet she's already knee-deep in deadly waters. There's nothing to do but follow the leads, lest all their souls fall prey to a vicious and very human evil.
The Dead Heat of Summer by Heather Graham is a standalone story in the Krewe of Hunters series and part of the 1001 Dark Nights novellas. Narrated by Paul Boehmer, the story takes us to New Orleans.
When a young widowed mother commits suicide, Ryder McKinley there was foul-play involved. The victim was his cousin, and he knows she'd never leave her young daughter behind.
Ryder is a Special Agent with the FBI'd Krewe of Hunters. He hasn't seen Lena Marceau ghost, but that hasn't stopped him from searching for answers while ensuring her child and Aunt are safe. Ryder has a list of suspects, now he just needs proof.
Casey Nicholson owns a small shop where she reads Tarot cards. Her background and gift for knowing what people need to hear help her pay the rent each month. She doesn't speak to the dead, so when one speaks to her at the local cemetery, she faints. When the young ghost pleads with her to warn her sister of danger, she does so, which sets Ryder on her path.
The tale that unfolds was entertaining. There were plenty of red herrings and twists. I solved the case much too quickly and felt some threads lacked firm support. Despite that, I enjoyed the setting, and it offered the light suspenseful escape I was looking for.
I liked both Ryder and Casey, and while their first meet wasn't pleasant, Graham warmed things up when Casey found herself in danger. The romance is secondary to the mystery and as is common with romantic suspense it was of the instalove variety.
Paul Boehmer is a fine narrator. I think he made Ryder and Casey seem older than the author intended, but he gave each a unique voice and his tone and pacing offered a pleasant listen.
Reading this book contributed to these challenges:
Related Posts