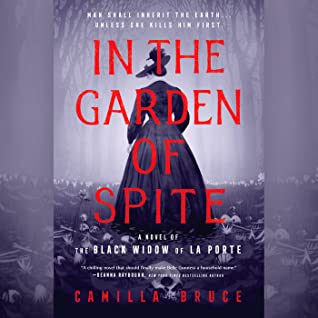 In the Garden of Spite
by Camilla Bruce
Narrator: Natalie Naudus, Stacey Glemboski
Genres: Historical Fiction, Crime Fiction
Source: Publisher
Purchase*: Amazon | Audible *affiliate
Rating:

Narration: 5 cups Speed: 1.3x

An audacious novel of feminine rage about one of the most prolific female serial killers in American history--and the men who drove her to it.

They whisper about her in Chicago. Men come to her with their hopes, their dreams--their fortunes. But no one sees them leave. No one sees them at all after they come to call on the Widow of La Porte.

The good people of Indiana may have their suspicions, but if those fools knew what she'd given up, what was taken from her, how she'd suffered, surely they'd understand. Belle Gunness learned a long time ago that a woman has to make her own way in this world. That's all it is. A bloody means to an end. A glorious enterprise meant to raise her from the bleak, colorless drudgery of her childhood to the life she deserves. After all, vermin always survive.
In the Garden of Spite is a fictional thriller based on the true crimes of Belle Gunness: The Black Widow of LaPorte, Indiana. Narrated by Natalie Naudus and Stacey Glemboski; Camilla Bruce delivered a twisted tale that kept me listening into the wee hours.
Serial killers both fascinate me and terrify me, so naturally I enjoy thrillers about them, especially fictional stories based on actual events.
What a creepy tale this was! Told from the perspective of Norwegian sister's Bella and Nellie. Nellie moved to America first, where she married and raised a family in Chicago. Bella followed soon after. Nellie and her husband introduced her to perspective suitors.
I thought it was clever to provide both sister's perspectives. When we read headlines about serial killers, we often wonder if the family knew.
Belle was complex. She is ruthless, driven and never satisfied. She could go from calculated control to rage in a moment's breath. She easily assumed many roles, from the grieving widow to the captivating seductress. She drugged her children, punished husbands by poisoning them, and lured men to her web. Even when they suspected or questioned, she could turn things around and have them doubting themselves.
I found the introduction of the fictional character James Lee fascinating. He is driven by the same desires as Belle and fuels her passions.
Nellie's struggle and worries about her sister through the years and events that unfolded shared the struggle loved one's face when they suspect things; unimaginable things. I thought the author did a good job of showing the struggles when dealing with a sociopath such as Belle. I will admit to being furious at Nellie. There were moments that demanded she open her eyes and protect the innocent.
The macabre tale that unfolded was suspenseful as the author took us into Belle's twisted, calculating mind. Be warned there is violence, rape, gore and abuse. I felt Nellie's fear and worried constantly for the children.
The story was made for audio. Natalie Naudus and Stacey Glemboski were perfect in their roles of the sisters and secondary characters. They added to the suspense and brought this story to life.
Fans of serial killers and true crime fiction and thrillers will want to grab In the Garden of Spite. I recommend the audio version. Don't miss the author's notes at the end.
Reading this book contributed to these challenges:
Related Posts