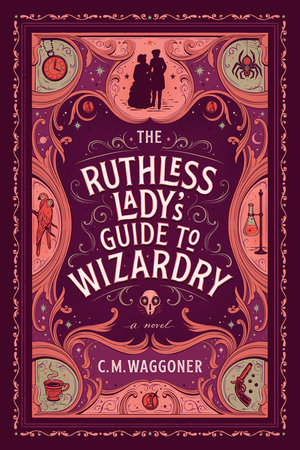 The Ruthless Lady's Guide to Wizardry
by C.M. Waggoner
Genres: Fantasy, Historical
Source: Publisher
Purchase*: Amazon | Audible *affiliate
Rating:

Heat Level:

A charming historical fantasy with a tender love story at its core, from the author of Unnatural Magic.

Hard-drinking petty thief Dellaria Wells is down on her luck in the city of Leiscourt—again. Then she sees a want ad for a female bodyguard, and she fast-talks her way into the high-paying job. Along with a team of other women, she's meant to protect a rich young lady from mysterious assassins.

At first Delly thinks the danger is exaggerated, but a series of attacks shows there's much to fear. Then she begins to fall for Winn, one of the other bodyguards, and the women team up against a mysterious, magical foe who seems to have allies everywhere.
The Ruthless Lady's Guide to Wizardry by C.M. Waggoner delivered an engaging historical fantasy with magic, suspense, and romance. Waggoner pulled me in and held me captive.
Dellaria Wells is a petty thief and sometimes drunk who is living in Leiscourt. She has two immediate goals. Get her mother off the drip and pay the landlord the rent before she breaks out in boils. Dellaria is a fire witch, and when she sees an advert for a bodyguard, it seems like a dream come true. She joins a team of other women, to protect a rich young lady from mysterious assassins.
From the world to the assorted group of females, I loved this story. Part investigative mystery, and part magic, it offered a delightful slow-burning LGBT romance that fans of historical fantasy will want to add to their shelf.
Most of the characters are female, from the landlord to the villain. Each woman on their team brought unique magic skills. The threat was freaky and involved the use of necromancy. Perhaps my favorite character was of all things a rat… but I will let you learn about that on your own.
We see character growth, friendships develop, and watch the romance between Dellaria and Winn. Their relationship felt genuine, as did the struggles Dellaria went through. Winn was a peach.
I would love to see this gang get together again, but loved how the story wrapped up. This was my first experience with C.M. Waggoner. I would not hesitate to read her again.
Related Posts