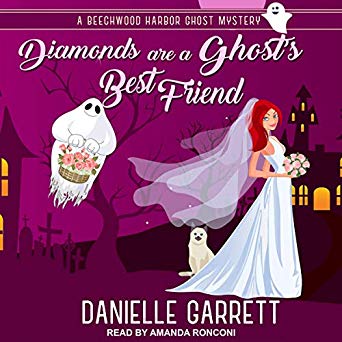 Diamonds Are a Ghost's Best Friend
by Danielle Garrett
Series: Beechwood Harbor Ghost Mystery #5
Narrator: Amanda Ronconi
Length: 4 hours and 54 minutes
Genres: Paranormal, Mystery
Source: Publisher
Purchase*: Amazon | Audible *affiliate
Rating:

Narration: 5 cups Speed: 1.3x

Going to the chapel and we're gonna get … haunted?

I've got a ring on my finger and a date circled on the calendar, let the wedding planning begin!

As luck would have it, the little wooded chapel I've got my heart set on, is plagued by the not-so-nice spirit of a former bride. She died on what was meant to be her wedding day and isn't going to step aside to let anyone else take her place at the altar. She claims the chapel is cursed and points to her own murder as a sure sign, but I'm not convinced.

I'll have to keep my new reaper powers in check and solve this case the old-fashioned way if Lucas and I have any shot at starting our happily ever after underneath the majestic pines.
Diamonds Are a Ghost's Best Friend by Danielle Garrett is the fifth audiobook in the Beechwood Harbor Ghost Mystery series narrated by Amanda Ronconi. Ghosts, murder and wedding bells made for an interesting tale.
I have come to love Garrett's paranormal cozies, and this series features a florist who sees and speaks to ghosts. A Ghost Whisper, ya might say, who helps them finish their business and crossover.
Scarlett and Lucas's wedding plans hits a dead end, when the perfect venue has a furious ghostly bride. Someone is vandalizing the floral shop, and the cat is disappearing for hours on end in this engaging tale.
I loved helping Scarlett and her ghostly pals along with her charming boyfriend, Lucas, piece together the murder-mystery. Scarlet has also decided to move to Seattle after the nuptials, but what of her ghostly friends? Will they accompany her?
While the mysteries are always engaging, I love the interaction and back-and-forth banter between Scarlett and her ghostly companions. Flapjack is exactly how one would expect a ghostly cat to behave and I giggled at his antics. This time around Garrett shared some scenes that tugged at my heartstrings. I cannot help but wonder if this is the end of this series.
Amanda Ronconi narrates and has become the voice of this series and author. I love the unique voices for all the characters. Her ability to capture their emotions and banter enhanced my enjoyment of the stories.
Reading this book contributed to these challenges:
Related Posts