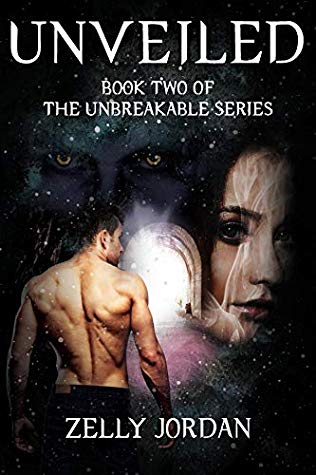 Unveiled
by Zelly Jordan
Series: Unbreakable #2
Genres: Fantasy
Source: Author
Purchase*: Amazon *affiliate
Rating:

Heat Level:

Sergeant Kellan O'Ryan.

Soldier. Assassin. Beast.

Working covert ops as ordered. Living a black and white existence. Until everything shattered into grey and nothing made sense anymore.

An anomaly on the species scale, Kellan's world was one of cold precision and stoic duty. A world he believed to be his own but when the beautiful Detective Charlotte Alistair stormed into his life, it shook the foundations of all that he was and believed himself to be. Initially wary of her, Kellan soon found himself ensnared in a way he didn't think was possible. She enthralled him, captivated his every sense, human and animal alike. She revealed pieces of himself he didn't know existed and a life he had forgotten.

But how? What happened to him?

At first, amnesia seemed to be the only explanation but as he began to unravel the truth it soon became clear that nothing was as it seemed. The more he learned, the less he knew.

And with nothing but his gut instinct to guide him, he needed to keep his focus sharp and clear even as his feelings for the beguiling cop began to dominate his every moment. With Charlotte and his alleged best friend, Finn McGregor now crowding his once solitary existence, the danger threatening him came not only from unseen enemies but from within. Because the more he opened his heart, the more he risked.

Would the connection he felt with Charlotte be the strength he needed to survive the upheaval or would it be his weakness?
Unveiled by Zelly Jordan is the second novel in the Unbreakable fantasy series. Fair warning, this story has an overall arc and ongoing romance and each book ends in a cliffhanger. Jordan delivered a suspenseful, heated tale that left me craving more answers.
If you remember the first book, Fractured, surprised me with its cliffhanger ending and lack of an HEA. This time I went in thinking of this as a fantasy series with PNR suspense elements and was better prepared.
The story picks up not long after the events of Fractured with very little recap. It had been almost a year since I read book one and I had to re-read the final chapter to familiarize myself with key elements but found I quickly slipped back in.
Sergeant Kellan O'Ryan is slowly regaining his memories and remembering his girl and best friend. He is also starting to question the Commander. We had some intense moments with explosions, fires and unravellings but with each trauma Kellan remembered more and things aren't adding up.
I loved the secrets, missions and questions. I want to know exactly what happened to Kellan. How did the beast become a part of him, what happened when he disappeared and why were his memories taken?. Eep!
The story isn't perfect, some things I felt repeated, and lack of answers regarding O'Ryan's past and the Commander frustrated me but I liked Kellan and Charlotte and am rooted for both.
I loved Finn and other secondary characters. I hope we see romances develop for them as the series progresses. We see development between Kellan and Detective Charlotte Alistair. He remembers more moments with her and his beast knows she is theirs. LOL
The story ended with more questions unanswered but left our couple in a good spot so I will be grateful for that. I look forward to the next novel in the Unbreakable series.
Reading this book contributed to these challenges:
Related Posts