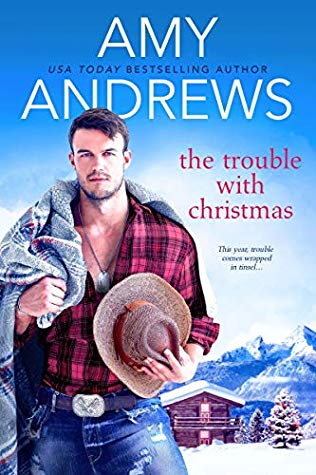 The Trouble with Christmas
by Amy Andrews
Series: Credence Colorado #2
Genres: Contemporary Romance
Source: Publisher
Purchase*: Amazon | Audible *affiliate
Rating:

Heat Level:
All Suzanne St. Michelle wants is an over-the-top, eggnog-induced holiday with her best friend in Credence, Colorado. But when her hoity-toity parents insist she come home for Christmas in New York, she blurts out that her sexy landlord is actually her boyfriend and she can't leave him—Joshy loves Christmas. The more twinkle lights the better.

Rancher Joshua Grady does not love Christmas. Or company, or chatty women. Unfortunately for him, the chattiest woman ever has rented the cottage on his ranch, invited her rich, art-scene parents, and now insists he play "fake rancher boyfriend" in a production of the Hokiest Christmas Ever. And somehow…she gets him to agree.

Apparently, he'll do anything to get his quiet life back. At least there's mistletoe every two feet—and kissing Suzy is surprisingly easy. But in the midst of acres of tinsel, far too many tacky Christmas sweaters, and a tree that can be seen from space, he's starting to want what he lost when he was a kid—a family. Too bad it's with a woman heading back to New York before the ball drops…
The Trouble with Christmas by Amy Andrews delivered a fun holiday romance featuring a "fake relationship" between a rancher and an artist looking for a muse. A heartwarming, sexy romance to keep your warm by the fire.
First, thank you to Andrews for a holiday romance that actually takes place and centers around the holiday. Suzanne St. Michelle a renowned artist who makes her money creating copies of classic works is visiting Credence, Colorado for a month. She has rented a cottage on rancher Joshua Grady's land. And as long as she keeps out of his way all will be fine. LOL..
Instant chemistry is one thing, but when you find out your short term tenant has been painting pictures of you, you might just strike a bargain to get said paintings.
Eep! I love a good fake relationship and this one comes wrapped in a gaudy Christmas bow! When Suzanne tells her Mom she isn't coming home for Christmas, her Mom insists they'll come to her, and the next thing you know Suzanne and Grady are posing as a couple and decorating for the holidays.
I loved this story. From Suzanne trying to find her muse to Grady's story. Grady has baggage and has suffered unimaginable loss. I wanted to hug him and slap ? him upside the back of the head, Special Agent Leroy Jethro Gibbs style. (NCIS, TV series)
Secondary characters, small-town charm and rumor mills led to moments of laughter and complications. I laughed, swooned, cried, and melted right along with my Kindle. It was the perfect afternoon delight!
Grab a hot cocoa and snuggle by the fire with The Trouble with Christmas. Don't forget the Christmas cookies or perhaps bourbon and brownies. *winks*
The Trouble with Christmas by Amy Andrews is the perfect holiday read to snuggle by the fire with tonight! #romance #cowboy #NewRelease
Click To Tweet
Reading this book contributed to these challenges:
Related Posts