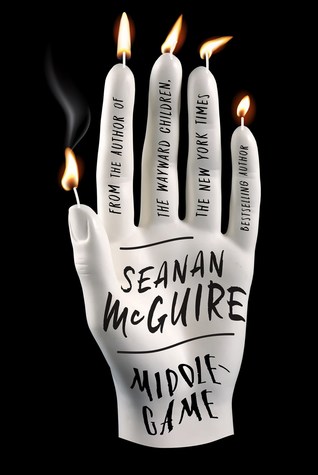 Middlegame
by Seanan McGuire
Series: Alchemical Journeys #1
Genres: Fantasy, Science Fiction
Source: Publisher
Purchase*: Amazon | Audible *affiliate
Rating:
Meet Roger. Skilled with words, languages come easily to him. He instinctively understands how the world works through the power of story.

Meet Dodger, his twin. Numbers are her world, her obsession, her everything. All she understands, she does so through the power of math.

Roger and Dodger aren't exactly human, though they don't realise it. They aren't exactly gods, either. Not entirely. Not yet.

Meet Reed, skilled in the alchemical arts like his progenitor before him. Reed created Dodger and her brother. He's not their father. Not quite. But he has a plan: to raise the twins to the highest power, to ascend with them and claim their authority as his own.

Godhood is attainable. Pray it isn't attained.
Middlegame by Seanan McGuire told from multiple perspectives and those of twins Roger and Dodger blew my mind. Take McGuire's hand as she takes us to the Impossible City.
Fans of McGuire's Wayward Children series will love this darker tale that explores, twins, balance, chaos, order, the power of words, math, time, and alchemy. While the Wayward series had a young adult feel, this does not despite some whimsical imagery.
The tale started out slowly for me even though the first chapter, Failure, grabbed me. But as we learned about Asphodel Baker, the Doctrines of Ethos, the Alchemical Congress and the creation of James Reed I found myself sucked down the rabbit hole.
Roger and Dodger are twins, born of a lab and separated at birth. At age seven they make contact telepathically. The tale that unfolds was brilliant, ambitious and completely addictive.
McGuire entertains with a complex tale and makes you ponder, dream and explore. I loved Roger and Dodger. While they aren't quite human, they haven't quite become. It was intense as Reed and his creepy sidekicks worked to keep them separated until it was time for them to manifest.
I loved the use of twins and the connection they share. Both are unique individuals. She is obsessed with math, he with the written word and languages. This is a story that one can read again and again, picking up different things each time.
Be warned there are dark, sometimes grizzly moments. You will witness murder(s) and death. But, with darkness comes light. McGuire takes up her magic pen and brings the path to the Impossible City to life. Math and Words leapt from the page delighting me at every turn.
Secondary characters become unexpected heroes and others like Leigh will give you nightmares.
Middlegame was brilliant, complex, simplistic and poignant. But those descriptions only scratched the surface of this brilliant novel.
Middlegame by Seanan McGuire was brilliant, complex, simplistic and poignant. But those descriptions only scratched the surface of this brilliant novel. #NewRelease #Fantasy
Click To Tweet

Stay Caffeinated!
Never miss a post by adding Caffeinated to your Inbox
Reading this book contributed to these challenges:
Related Posts