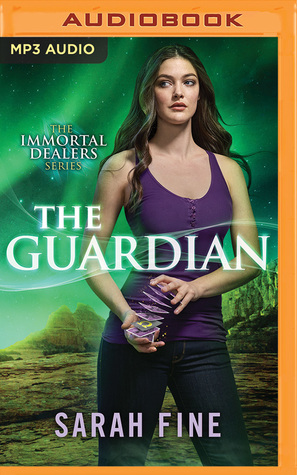 The Guardian
by Sarah Fine
Series: The Immortal Dealers #2
Narrator: Carly Robins
Length: 8 hours and 53 minutes
Genres: Urban Fantasy
Source: Publisher
Purchase*: Amazon | Audible *affiliate
Rating:

Narration: 4 cups
Life and death are a gamble for a girl fighting to save humanity in a world she's only beginning to understand.

One minute, Ernestine "Ernie" Terwilliger was a fairly normal young woman with an almost normal life. Absent father. Peculiar mother. Family secrets. The next, she was hurled into a land where the Immortal Dealers are waging a battle between good and evil—and where the fate of the world is in the cards.

Having only started to master her own deck, the inexperienced Ernie places the wrong bet on the right guy at the worst time. That's when she's bounced into another realm and trapped there by a formidable and power-hungry rogue Dealer who knows more about Ernie's fractured family than Ernie herself does.

Now, Ernie's fight to free herself is only the beginning. As the secrets of Ernie's father and his own relics of power start to surface, Ernie will need to tell friend from foe—a feat not as easy as it seems.

At least now she has a full deck…because to survive secrets, betrayals, and dangerous dimensions, she'll need to deal the best hand.
The Guardian by Sarah Fine is the second novel in the Immortal Dealers, urban fantasy series. With a clever plot and fun magical world filled with cards, summoning creatures and more I quickly slipped back in thanks to the narrations of Carly Robins.
Because this is an urban fantasy series, I recommend listening to audios in the series in the order of their release. Ernestine "Ernie" Terwilliger found herself a dealer when she stole cards from a would be thief, and found herself caught up in chaos as Immortal Dealers wage a battle between good and evil. In this installment Ernie finds herself in another realm when she sides with the wrong dealer. She will have to use her wit, trust friends and if she is lucky save her long-lost father in the process!
The Guardian pulled me in from the opening paragraphs and held me to the last sentence. Poor Ernie is inexperienced in her knowledge of the cards, world and rules. She is just scratching the surface of mastering her own deck and is literally bouncing from assignment to assignment. To make matters worse, she hasn't heard from Gabe, the immortal dealer who helped her and kissed her in the first book.
While I will admit I was pretty annoyed at Gabe, Fine gives us reasons, acceptable ones and any scenes involving him were fantastic. He is supportive of Ernie and help her grow as a dealer. Ernie, despite her initial reluctance is pretty kickass and we see her grow by leaps and bounds. I like the dealers she has surrounded herself with and Fine continues to give us history on them. We meet new characters and Ernie's father. I am curious about someone Ernie met in the other realm and will leave you to discover them.
The story makes me think of my son playing Yu-Gi-Oh! cards and I get chuckle telling him about the audiobooks. Fine has such a vivid imagination and her take on the other realm with its giant insects and rules created an intense listen. As exciting as the adventure was, it was the tidbits and additional world building that rocked for me. From the cards to the forger who makes them; it enchanted me.
Carly Robins continues to narrate the series and has become the voice of Ernie for me. She gives each character a unique voice and enhances Fine's interpretation. From the pacing to her control during an intense scene she makes listening a pleasure.
The ending delivered twists and has me excited to see what the next audiobook, The Warrior will bring!
With a clever plot and fun magical world filled with cards, summoning creatures and more I quickly slipped back into the world of the Immortal Dealers, in The Guardian by Sarah Fine narrations by Carly Robins. #iloveaudiobooks
Click To Tweet
Reading this book contributed to these challenges:
Related Posts