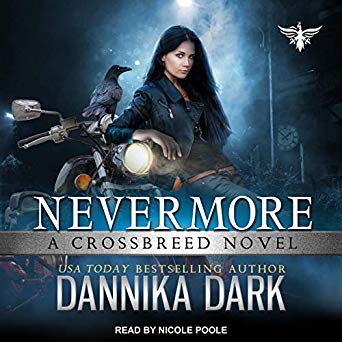 Nevermore
by Dannika Dark
Series: Crossbreed #6
Narrator: Nicole Poole
Genres: Urban Fantasy
Source: Publisher
Purchase*: Amazon | Audible *affiliate
Rating:

Heat Level:

Narration: 5 cups
Raven returns to her childhood home to rebuild her severed relationship with her father. After a long year of capturing violent criminals and thwarting assassination plots, she could use a vacation. But trouble is brewing on the home front. When Raven discovers her father is in financial peril, she's determined to set things right even if it means sacrificing her heart in the process. Meanwhile, her relationship with Christian is on shaky ground when a skeleton falls out of his closet. Will they be able to leave the past behind, or is the trust between them dead and buried?
The Crossbreed series is brilliant from characters who make me feel to the suspenseful cases that keep me listening into the wee hours. Nevermore made me laugh, made me angry and had me plotting the demise of a vampire. It also made me smile, weep and swoon.
A few years back I won Dannika Dark's Seven series on Audio. Best dang thing that ever happen. Since then I have devoured her backlist and impatiently wait for each new release. Her series all take place in the same world but feature different supernatural characters. If you are new to this author, I recommend beginning with the Mageri series as a secondary character there becomes a key character in Crossbreed.
As soon as I got this audiobook I listened. Despite my best efforts to extend my listening and therefore my enjoyment the events of Blackout, the previous novel, and the beginning of Nevermore, made that virtually impossible.
Raven is visiting her Da. She and Christian aren't speaking and trouble is coming. They say bad things happen in threes and so it is in Nevermore. However, Dark balances it all out with snark, character grow, humor and tender moments involving different characters. I love Keystone and while most of this story happens outside of the compound; we enjoy moments within its walls.
I feared that miscommunication, stubbornness and outsiders would put a giant kink in the relationship between Raven and Christian. Both have endured so much. I admit the need for assurance kept me listening, even as I worried about the threat from the lions and a bitchy vamp. Then the whole thing with Keystone and Victor. Eek gads!
There were funny moments like the barbs between Christian and Raven's Dad or the run in Christian had at a certain BBQ establishment. Hilarious! I am hoping Dark has many more stories for these characters. Fans of Cecy Robson's Weird Girls, Ilona Andrews' Hidden Legacy series and Patricia Briggs' Alpha & Omega series will love diving into Crossbreeds.
I would be remiss if I didn't recommend and rave about the narration of Nicole Poole. Poole brings these characters, the situations and all the emotions to life. This series is perfect for audio and Poole adds another level of enjoyment. She is the voice of Christian and Raven. From accents to snark she makes me giddy.
Nevermore by Dannika Dark offered another addictive installment in the Crossbreeds series. From danger to humor it had it all. #iloveaudiobooks #NewRelease
Click To Tweet
Reading this book contributed to these challenges:
Related Posts