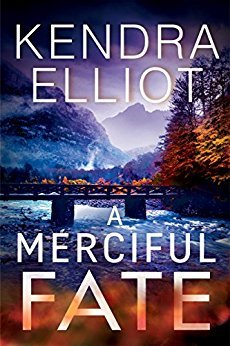 A Merciful Fate
by Kendra Elliot
Series: Mercy Kilpatrick #5
Genres: Mystery
Source: Publisher
Purchase*: Amazon | Audible *affiliate
Rating:
Raised by preppers, survivalist and FBI agent Mercy Kilpatrick has a deep-rooted need for a safe place. Her getaway in the Cascade Foothills is her secret. But when skeletal remains are unearthed—those of a murdered man linked to a notorious heist—Mercy realizes she isn't the only one with something to hide.

Thirty years ago, an armored-car robbery turned deadly. The mastermind was captured. Four conspirators vanished with a fortune. One of them, it appears, never made it out of the woods alive. For Mercy and her fiancé, Police Chief Truman Daly, their investigation opens old wounds in Eagle's Nest that cut deeper than they imagined. Especially when a reckless tabloid reporter draws fresh blood. It's clear to Mercy that somebody in this close-knit community is not who they seem to be.

Some are still shattered by the heist. Some still have reason to be afraid. But which one will kill again and again to hide three decades of secrets? To land this case, it's up to Mercy to unmask a familiar stranger before someone else dies.
I enjoy the Mercy Kilpatrick series by Kendra Elliot and I was excited to dive into A Merciful Fate. This is the fifth novel, in the series and I was not disappointed. For me, it was the strongest murder-mystery of the series.  An unsolved, thirty-year-old bank heist gave way to suspense, townie secrets and more.
This case tested FBI Agent Mercy Kilpatrick and her fiancé Police Chief Truman Daly and provided an addictive tale that pulled me in and never let go.
An armored-car robbery turned deadly, before the mastermind of the heist is captured. However, four conspirators vanished with a fortune. Now, thirty-years later it appears one of the four never made it out of the woods
While out hiking, Ollie and his dog stumble upon a grizzly discovery in an abandoned cabin. When Truman discovers bank bags, he calls in the FBI. I love old unsolved mysteries and was all in.
Meanwhile, a purple-haired reporter seems to have insider information. Two local women have had their homes or businesses vandalizes.  Rose is sick but has some exciting news and things are hopping at the coffee shop.  Mercy and Truman are busy rebuilding her survivalist homestead as they make plans for the future.
I loved returning to the Cascade Foothills and the town of Eagles' Nest. Surrounded by farms and mountains this is a popular place for survivalists and preppers. It is a tight community where everyone knows what car you drive and who was out late last night. But even in a small-town folks still hide secrets.
Elliot outdid herself with the mystery and investigation from red herrings to twists I never saw coming. From the pacing to the different crimes, I was all in and enjoyed this over the holiday break.
Fans of unsolved crimes, small-towns and balanced stories involving repeat characters will enjoy the Mercy Kilpatrick series and A Merciful Fate. While each book contains its own case, the story arc for the characters and small-town screams to be read in the order of release.
An unsolved thirty-year-old bank heist gave way to suspense, townie secrets and more gave way to an exciting tale in A Merciful Fate by Kendra Elliot #MustRead #NewRelease #Mystery
Click To Tweet
Reading this book contributed to these challenges:
Related Posts