Welcome to another edition of Nonna's Corner where I share books I've read with my grandchildren, affectionately known as the "Royals" here at Caffeinated. Today we are sharing a tall tale called The Day That A Ran Away by B.C.R. Fegan with illustrations by Lenny Wen. Grab a cup of pumpkin spice coffee and check it out.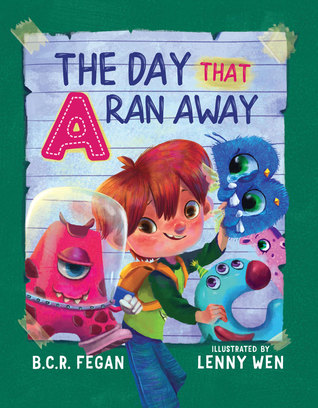 The Day That A Ran Away
by B.C.R. Fegan
Genres: Childrens
Pages: 34
Source: Publisher
Purchase*: Amazon *affiliate
Rating:
Master Jet has forgotten to complete his homework... or has he? Jet's teacher is surprised to find that instead of the alphabet, his page is completely blank. Jet tries to explain that it really isn't his fault. After all, how can he help it, if none of his letters want to stay on the page!
We all know the tall tales children tell their teachers when they've forgotten to do their homework. The Day That A Ran Away shares a child's excuse.
It seems Master Jet forgot to write out his alphabet. When Mrs. May calls him on it he claims he did, but today was the day that "A" ran away. What unfolded was an elaborate, sometimes silly tale where all the other letters followed A's lead.
"J found it funny and stepped off the page. K was annoyed and went into a rage. L just went missing I think it was theft….." 
Each letter has its own page and a wonderful color illustration to accompany it. I laughed at how wonderfully Mrs. May handled the situation.
The story is clever and the illustrations give each letter a personality all of their own. The Royals adored this story. It helped Princess Sophia connect the letters with the Alphabet song she loves to sing and is a great tool for early learners. This story is perfect for story time both at home and in the classroom. It allowed for conversation about Jet and his homework, and the telling fibs all while letting their imagination fly.
Age Range: 3 – 6 years
Grade Level: Kindergarten – 1
J found it funny and stepped off the page. K was annoyed and went into a rage. L just went missing I think it was theft..... discover more in The Day That A Ran Away by B.C.R. Fegan #childrens #books
Click To Tweet
Related Posts