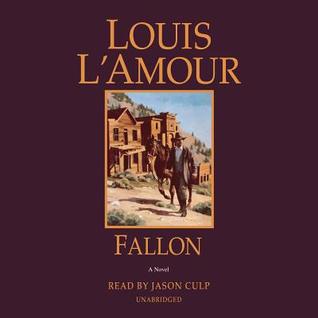 Fallon
by Louis L'Amour
Narrator: Jason Culp
Length: 5 hours
Genres: Western, Historical Fiction
Source: Publisher
Purchase*: Amazon | Audible *affiliate
Rating:

Narration: 5 cups
Macon Fallon had never needed more than a deck of cards, a fast horse, and a ready gun; he was counting on those things now as he led an unsuspecting group of settlers to an abandoned mining town. But while Fallon prepared to pass the ghost town off as a gold mine in the making, a funny thing happened: a real-life community started to take shape in the town he'd christened Red Horse. So when a band of vicious outlaws and a kid who fancied himself a gunslinger threatened to rip Red Horse apart, Fallon found himself caught in one predicament he'd never gambled on. He had come to Red Horse to make a quick fortune, but now he might have to pick up a gun and risk his life for a place he never wanted to call home....
Sophia Rose has popped in for a visit and will be sharing her thoughts on the audiobook, Fallon by Louis L'Amour, narrated by Jason Culp. Grab a glass of iced coffee and saddle up!
Sophia Rose's Review
The Old West came alive in this combination of light, yet gritty quintessential western historical that boasted all the good stuff with a wily gambling man, an abandoned ghost town, a not to be fooled beauty, robbers, gold mines, good folk traveling west, and the biggest gamble there could be.
I had a good time with this one. The hero, Macon Fallon, is something of a gentleman rogue (think Maverick if you've seen that movie or old TV series). He has ethical standards and doesn't quite cross the line into true villainy, but he definitely skitters there on the line in his attempts to get to the better life. There's a likable quality that has the reader rooting for him. He reads people well, but isn't fooled by his own weaknesses or flaws, either. He's a gambler who can be a card sharp, but he's good enough that he doesn't have to. He's also not a stranger to hard, back-breaking work and will do it when called upon like he does to whip the neglected town into shape. Oh, and let's not forget the guy can shoot to kill when pushed into it. Now, pair him with a skeptical, smart, and sharp-tongued beautiful young woman along with some colorful western characters to make up the town. Then add in true villains who rob, rape, pillage, and kill without compunction and now have their mean-eyed sights set on Fallon and the wealth coming into the town from being along the traveling trails to the west. And, voila, we have ourselves a rip-roaring western. Fallon fought with cunning and skill (people were always underestimating him), but I loved that he had several styles of fights: gun battles with the robbing gang, running fights with the Utes, poker challenge with a cheat, fist fight with a big bullying bruiser, and oh yes, his long con with the mining claims…
It wasn't my first time reading the book, but it was my first time on audio with the now familiar narrator, Jason Culp. This was my second outing with him telling a L'Amour story and, just like the first time, he captured the spirit of the genre and the writing splendidly. I thought he got the more subtle humor of the story of a long con gone legit, brought me right in close for the action scenes, and he nailed the several voices and handful of distinct western accents including the female ones.
All in all, I had a good old time and would heartily recommend Fallon to those who want a solid western that has a touch of humor, plenty of grit, and still offers all the elements expected in a book from this genre. For those new to the genre and the author, I think this is a fabulous gateway to what is beyond.
[bctt tweet="Sophia Rose stopped in and heartily recommended Fallon to those who want a solid western that has a touch of humor, plenty of grit, and still offers all the elements expected in a book from this genre. #loveaudiobooks" username="kimbacaffeinate"]
Related Posts