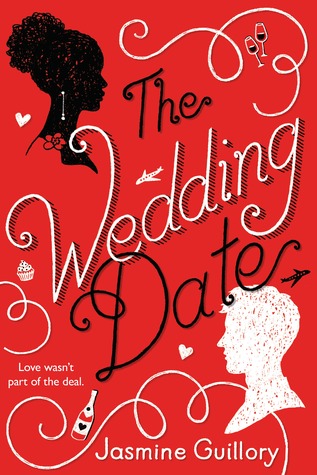 The Wedding Date
by Jasmine Guillory
Narrator: Janina Edwards
Length: 8 hours and 28 minutes
Genres: Contemporary Romance
Source: Publisher
Purchase*: Amazon | Audible *affiliate
Rating:

Heat Level:

Narration: 4 cups
A groomsman and his last-minute guest are about to discover if a fake date can go the distance in this fun and flirty debut novel.

Agreeing to go to a wedding with a guy she gets stuck with in an elevator is something Alexa Monroe wouldn't normally do. But there's something about Drew Nichols that's too hard to resist.

On the eve of his ex's wedding festivities, Drew is minus a plus one. Until a power outage strands him with the perfect candidate for a fake girlfriend...

After Alexa and Drew have more fun than they ever thought possible, Drew has to fly back to Los Angeles and his job as a pediatric surgeon, and Alexa heads home to Berkeley, where she's the mayor's chief of staff. Too bad they can't stop thinking about the other...

They're just two high-powered professionals on a collision course toward the long distance dating disaster of the century — or closing the gap between what they think they need and what they truly want...
The Wedding Date by Jasmine Guillory was a cute romance featuring diverse characters, fake relationships, and swoons. I laughed and shook my head as I enjoyed these loveable characters as they stumbled into something more.
I loved the setup for The Wedding Date. Alexa and Drew meet in an elevator the day before his ex's wedding. When they end up stuck, the two begin chatting, and she agrees to be his plus one for the wedding. It was funny, heartwarming and ends up heated. The end up staying up late, sharing and the next thing you know they are traveling back and forth to see each other.
The story that unfolds was filled with sweet moments, delicious banter and mutual respect and friendship. Along the way, we learn about Alexa's job at the Mayor's office and Drew's job as a pediatric surgeon. I love that they are both hard-working, well rounded and confident. This doesn't mean they are without flaws and communication is definitely a weakness for both when it comes to personal feelings. On the job, they got this, but expressing things to each other...oh boy!
Lack of communications, assumptions and personal fears complicated the relationship, but I could not help rooting for them. I felt Alexa's pain but also wish she had opened up more and stopped assuming she knew everything. Drew is adorkable! His inner dialogue and fears had me laughing. He spoke just like I imagine a pediatric doctor would with patience and strong listening skills.
Secondary characters, work, and family added interest and propelled some couple's fears. Aside from wanting to shake them both, the drama wasn't overdone and allowed for personal growth and reflection.
Janina Edwards narrates The Wedding Date and I thought she gave voice to both characters capturing their emotions and passions.
If you are looking for a swoon-worthy romance with characters, you can root for you'll want to grab The Wedding Date!
Funny Side Note: I listen to my audios using my smartphone and was parked in front of the computer, setting up drafts of review posts, while listening to this story. My Echo sits on my desk and the poor thing when crazy every time the heroine's name Alexa was mentioned.
[bctt tweet="The Wedding Date by Jasmine Guillory was a cute romance featuring diverse characters, fake relationships, and swoons. #audiobook #beachlisten" username="kimbacaffeinate"]
Reading this book contributed to these challenges:
Related Posts