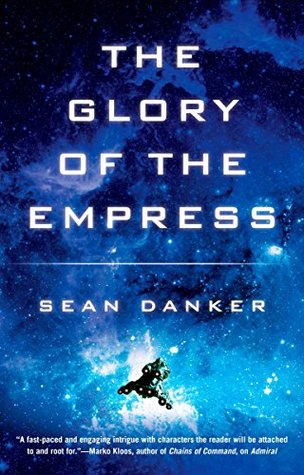 The Glory of the Empress
by Sean Danker
Series: Evagardian #3
Genres: Science Fiction
Source: Publisher
Purchase*: Amazon *affiliate
Rating:
From the author of Admiral and Free Space comes an exciting military science fiction novel about an eclectic mix of Evagardian soldiers on a mission to test a new weapon, but instead find something much more dangerous.

The war between Evagardian Empire and the Commonwealth is at its peak.

The Evagardians have developed a weapon that could change everything, but they can't use it until it's been fully tested. Targeting unsuspecting pirates in a newly annexed system, far from the worst of the fightingsean is supposed to be a safe way to determine if the weapon is ready for live combat.

Everything about the mission is unconventional; the crew of twelve has been pulled from every corner of the Imperial Service, but it should still be an easy tour. After all, a few pirates can't possibly threaten Evagard's elite, especially when they're armed with the most powerful technology in the Imperium.

But it's an unproven system aboard an experimental ship, and there are worse things than pirates waiting in the Demenis System. Far from the front lines, the crew of the Lydia Bennett is about to start a war of their own, and they're a long way from home.
Please welcome Sophia Rose to the blog today as she shares The Glory of the Empress by Sean Danker, the third book in the riveting science fiction series, Evagardian. I loved book one, so I am excited to see what Sophia has to say. Enjoy!
Sophia Rose's Review
For this third venture in the Evagardian tales, we seem to be off to follow a separate thread from the first one that was running in The Admiral and Free Space. There is the sensation that it is all connected without a clear line holding them together. I get the tingling feeling that the series is just getting rolling and what a wild, intensely thrilling, and an intriguing story it is set out there among the stars many years into our future.
So, yes, The Glory of the Empress is the third installment of the Evagardian series. It might seem like it would be okay standalone because it introduces a new set of players into the game, but no, I wouldn't advise it. I really think the two earlier books along with this one are leading up to something big.
The Glory of the Empress opens with twelve strangers recruited from throughout the Evagardian Military brought together to serve aboard the latest cutting-edge technology in warships. Half came from seemingly unrelated fields. They barely get time to introduce themselves before they're in the thick of things.
The story narration is from one perspective all the way through. He is wry, observant, and intuitive. For someone who has no combat experience, he does well with each new encounter that is challenging and an edge of your seat thrilling. It wasn't long before I was asking myself, like with the first book, just who is this man and was he really only an immigration analyst before this. Oh, and there was a mysterious event in his past involving his boss that may or may not be taken at face value.
Okay, speaking of face value, I felt this story was so layered. There are the ongoing sci-fi space battle action plot and a few alien creature moments that got my spine tingling that could be just exactly what it is, but there are layers beneath like someone is orchestrating moves on a chess board way ahead. It's an interesting feeling.
The reader gets to know to a certain extent the players aboard Lydia Bennett (love this little P&P Easter Egg), but there are three main players Commander Mao, the fighter pilot, and the analyst turned bridge team and support staff for the fighter pilot. Then there are the pirates and some refugees to toss into the mix when the crew of the Lydia Bennett learns quickly that their mission is only the tip of the iceberg out in this remote section of space. They're up against a cunning defector who helped develop and knows all the innovations and strategies for making war with the Lydia Bennett and her tech.
In the end, there are a series of climactic scenes that had me holding my breath and swiping pages fast enough to leave a jet trail on my Kindle. Those who want fantastic sci-fi action and an impressive series building itself toward an even bigger end should not hesitate to pick these books up. Fair warning, there might be some addiction involved if you discover they are to your taste.
The Glory of the Empress by Sean Danker offered an edge-of-your-seat sci-fi thrill ride where nothing is as it seems. #scifi #mustread series.
Click To Tweet
Related Posts