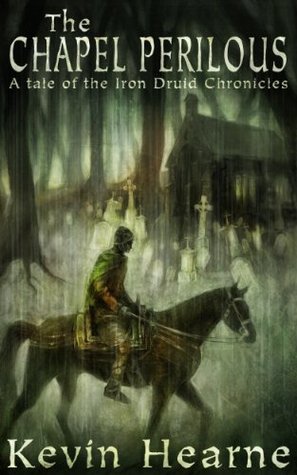 The Chapel Perilous
by Kevin Hearne
Series: Iron Druid Chronicles #4.6
Genres: Urban Fantasy
Source: Purchase
Purchase*: Amazon *affiliate
Rating:

Narration: 5 cups
Ancient Druid Atticus O'Sullivan has had plenty of adventures during his long life, and in "The Chapel Perilous" he shares one of them with his apprentice, Granuaile. He lays out the true story of the quest for the Holy Grail, in which he was personally involved—and the events of which are quite different from the Christian tale most people know today.

While on an errand for Ogma to recover the Dagda's Cauldron, Atticus confronts evil at a mysterious chapel, takes the first steps to becoming the Iron Druid, and learns the shocking truth about goblin fashion choices.

He was, of course, in terrible peril.

Originally published in 2013 in the Unfettered anthology edited by Shawn Speakman, now offered singly with cover art by Galen Dara.
Stories surrounding the holy grail intrigue me, and I wanted to hear Hearne's take as told by Atticus O'Sullivan. The Chapel Perilous is the only novella not available on audio, so I picked up the eBook. As the last of the backlist of novellas that I picked up, Luke Daniels voice played in my head as Atticus does another favor for the god, Ogma.
Once again we find ourselves enjoying a fire in the wilderness with Granuaile, Oberon, and Atticus. Over marshmallows, he shares the story of the holy grail originally known to him as Dagda's Cauldron. Atticus claims that the story is a Celtic Druid story that was twisted through time. I enjoyed Hearne's tale about the grail but loved the tidbits about the elemental, the iron around Atticus's neck and his inspiration for his charms and future companions.
This tale may only be thirty-three pages long, but boy did it pack a wallop. The year is 537AD, and Atticus calls himself Gawain. Dagda's Cauldron is one of the Four Treasures of the Tuatha Dé Danann and reported to feed an Army and never empty.
Gawain (Atticus) travels with a horse named Apple Jack to retrieve the "holy grail" Apple Jack could use speech like Oberon would decades later and their conversations were hilarious. I would love to have spent more time with this horse. The tale that unfolds has them traveling in rain, being attacked by an evil force at an old church and meeting the Fish King before he faces off with an evil entity.
Hearne is a masterful storyteller and I quite enjoyed this short.
The Chapel Perilous by Kevin Hearne explores the holy grail as Atticus O'Sullivan does a favor for the god, Ogma #urban #unique #novella
Click To Tweet
Reading this book contributed to these challenges:
Related Posts