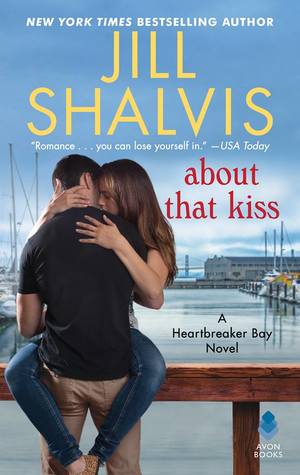 About That Kiss
by Jill Shalvis
Series: Heartbreaker Bay #5
Genres: Contemporary Romance
Source: Publisher
Purchase*: Amazon *affiliate
Rating:

Heat Level:
When love drives you crazy . . .

When sexy Joe Malone never calls after their explosive kiss, Kylie shoves him out of her mind. Until she needs a favor, and it's a doozy. Something precious to her has been stolen and there's only one person with unique finder-and-fixer skills that can help—Joe. It means swallowing her pride and somehow trying to avoid the temptation to throttle him—or seduce him.

the best thing to do . . .

No, Joe didn't call after the kiss. He's the fun time guy, not the forever guy. And Kylie, after all she's been through, deserves a good man who will stay. But everything about Kylie makes it damned hard to focus, and though his brain knows what he has to do, his heart isn't getting the memo.

… is enjoy the ride.

As Kylie and Joe go on the scavenger hunt of their lives, they discover surprising things about each other. Now, the best way for them to get over "that kiss" might just be to replace it with a hundred more.
About That Kiss by Jill Shalvis is the fifth novel in the Heartbreaker Bay series. Once again Shalvis transported me to this quaint little community providing the perfect escape from the winter blues.  Kylie and Joe's story was fun, and it was delightful seeing these sexy, and stubborn characters tumble.
I love a couple who sizzle with chemistry and irritate the heck out of each other!  The results are delicious banter, searing kisses, and eventually fiery passion. A missing Penguin, has Kylie seeking Joe's investigative skills and this stubborn woman insists on tagging along.
I loved how strong both characters were in About That Kiss. They both come from difficult upbrings but Kylie is sweet and Joe was just adorkable. He has some hangs up, but he is the kind of guy you want in your court. He made my panties melt with his reaction to small dogs and his dedication to family. Shalvis writes strong, confident heroines who tackle things head on and don't settle. It is one of the things I like most about this author. Kylie is strong, stubborn and a survivalist.
The combination of heat and heart was well balanced. I enjoyed this couple immensely from the wicked banter to the buildup. The romance was off the charts and I loved their sizzling chemistry. I could just see Joe give a half-devilish smile and see Kylie turn red while wicked thoughts danced in her head. Shalvis did an excellent job of sharing their stories, introducing their families and allowing the relationship to develop.
About A Kiss delivers a good mystery with some suspenseful moments as we deal with both Joe's career and the case of the missing penguin. Growing pains and suspense kept the drama low and the author gave us plenty of heartwarming moments to endear us to this couple. We get updates from previous couples and hints of brewing attractions. I myself want to move to Heartbreaker Bay and befriend all these characters.
While About That Kiss works completely as a standalone, I recommend starting from the beginning. The friendships in this series are well worth it.
Jill Shalvis transported me to this quaint little community providing the perfect escape from the winter blues with About That Kiss. #mustread #smalltown #hot #newrelease
Click To Tweet
Related Posts