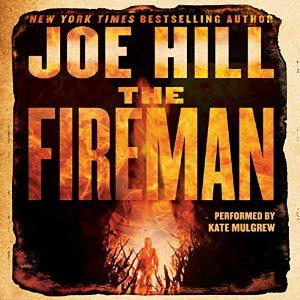 The Fireman
by Joe Hill
Narrator: Kate Mulgrew
Length: 22 hours and 20 minutes
Genres: Horror
Source: Purchase
Purchase*: Amazon | Audible *affiliate
Rating:

Narration: 5 cups
No one knows exactly when it began or where it originated. A terrifying new plague is spreading like wildfire across the country, striking cities one by one: Boston, Detroit, Seattle. The doctors call it Draco Incendia Trychophyton. To everyone else it's Dragonscale, a highly contagious, deadly spore that marks its hosts with beautiful black and gold marks across their bodies—before causing them to burst into flames. Millions are infected; blazes erupt everywhere. There is no antidote. No one is safe.

Harper Grayson, a compassionate, dedicated nurse as pragmatic as Mary Poppins, treated hundreds of infected patients before her hospital burned to the ground. Now she's discovered the telltale gold-flecked marks on her skin. When the outbreak first began, she and her husband, Jakob, had made a pact: they would take matters into their own hands if they became infected. To Jakob's dismay, Harper wants to live—at least until the fetus she is carrying comes to term. At the hospital, she witnessed infected mothers give birth to healthy babies and believes hers will be fine too. . . if she can live long enough to deliver the child.

Convinced that his do-gooding wife has made him sick, Jakob becomes unhinged, and eventually abandons her as their placid New England community collapses in terror. The chaos gives rise to ruthless Cremation Squads—armed, self-appointed posses roaming the streets and woods to exterminate those who they believe carry the spore. But Harper isn't as alone as she fears: a mysterious and compelling stranger she briefly met at the hospital, a man in a dirty yellow fire fighter's jacket, carrying a hooked iron bar, straddles the abyss between insanity and death. Known as The Fireman, he strolls the ruins of New Hampshire, a madman afflicted with Dragonscale who has learned to control the fire within himself, using it as a shield to protect the hunted . . . and as a weapon to avenge the wronged.

In the desperate season to come, as the world burns out of control, Harper must learn the Fireman's secrets before her life—and that of her unborn child—goes up in smoke
I bought The Fireman audiobook, by Joe Hill last year after devouring NOS42A and then it sat as my TBR pile demanded my attention. From the very first chapter, Hill grabbed me. This brilliant original story reminded me of early Stephen King and Mira Grant's Parasite series. If you haven't tried Hill I encourage you to do so.
When the HoHoHo Readathon rolled around again, I was looking for a book with a winter setting, and much to my joy fellow book lovers assured me parts of the story took place in winter. Weird book for a holiday readathon, but I love horror, mysteries, and thrillers as cold weather sets in. I loved every freakin' moment of this twenty-two-hour audio narrated by the impressively talented Kate Mulgrew.
In this post-apocalyptic horror, the world has fallen after a deadly virus doctor's termed Draco Incendia Trychophyton. Commonly referred to as Dragonscale, a highly contagious, deadly spore that marks its hosts with beautiful black and gold marks across their bodies—before causing them to burst into flames. Nice right? When we enter the story millions are already affected and hope seems lost.
Hill is a masterful storyteller and he vividly brings this world and contagion to life as he introduces our protagonist, Harper Grayson. Harper is a young, married school nurse who adores Mary Poppins. As the story unfolds, schools are shut down and Harper despite the risk answers the call to help at the local hospital. Here she first meets the Fireman.  He brings a young boy into the oversized hospital. A catastrophe at the hospital will change everything when Harper discovers the first signs of Dragonscale.
Holy shitake mushrooms can Hill weave a story. He made events feel completely realistic from an overall worldview to the daily crumbling of Harper's little world. We learn a lot about Dragonscale thanks to Harper's time at the hospital, including the fact that the womb seems to protect the unborn child from the infection, and that a child was successfully delivered before the mother burst into flames. Harper and her husband made a pact to end it if they became infected and when scales begin appearing on him he wants to carry through with it. Only Harper is pregnant and that simply will not do.
Harper is determined to carry her baby to term. As we spiral into madness, Harper is forced to run and fate has her crossing paths once again with the Fireman. The tale that unfolds was original, complex and addictive as we find ourselves amongst people living and controlling Dragonscale.
A combination of horror, science-fiction, and psychological thriller I could not stop listening. Whether you listen to Hill or read his works you'll find his stories to be well paced, addictive and thought-provoking. He realistically captured humanities response to fear, change, and our desire to survive. The community Harper soon finds herself in, takes on an almost cult-like feel as the Dragonscale worked its way through its host. Danger, betrayal, and searches for provisions added suspense.
The characters are unique, well developed, complex and Hill highlighted their strengths and weaknesses. Harper is a powerful, level-headed protagonist who I came to admire. The Fireman while a bit of a mystery emulates the aspects one expects from a fireman from strength to a desire to save lives. From Harper's descriptions of him, I think you'll find him easy on the eyes. As we get to know the characters, even secondary ones we begin to feel part of the group and root for their survival. The author does a good job of giving us mundane moments, tender moments and a touch of normalcy reminding us that the world does go on, even as madness descends.
Kate Mulgrew narrates and does so brilliantly. She nailed the voice of Harper and the Fireman from their nuances to fears. We meet quite a few characters and she managed to give them all a unique voice. At over twenty-two hours, it was delightful to immediately recognize a character from the pitch of their voice.
Hill gave us plenty of villains including an overzealous hunter, mad husband, and power-seeking opportunists. He wove fear, horror, and heroism into the tale as he developed characters, and made Dragonscale a living breathing thing. Have you ever looked at a virus under a microscope? Some of them are beautiful and Hill shows us all sides of this fire-breathing virus.  He will make you think and perhaps wonder if somewhere beneath the Earth's surface, this virus lies dormant waiting to strike.
I did not want The Fireman to end but appreciated how Hill wrapped this tale up. This is one I will enjoy again and of course, I immediately grabbed another of his earlier works on audio. This one is a keeper and one I recommend for fans of science fiction, horror, post-apocalyptic tales.
Kate Mulgrew burned down the house narrating The Fireman by Joe Hill #mustlisten #audio
Click To Tweet
Related Posts