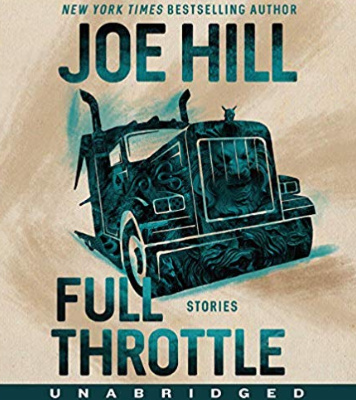 Full Throttle
by Joe Hill
Narrator: Zachary Quinto, Wil Wheaton, Kate Mulgrew, Neil Gaiman, Ashleigh Cummings, Joe Hill, Laysla De Oliveira, Nate Corddry, Connor Jessup, Stephen Lang, George Guidall
Length: 15 hours and 45 minutes
Genres: Horror
Source: Publisher
Purchase*: Amazon | Audible *affiliate
Rating:

Narration: 5 cups Speed: 1.3x

In this masterful collection of short fiction, Joe Hill dissects timeless human struggles in thirteen relentless tales of supernatural suspense, including "In The Tall Grass," one of two stories co-written with Stephen King, basis for the terrifying feature film from Netflix.

A little door that opens to a world of fairy tale wonders becomes the blood-drenched stomping ground for a gang of hunters in "Faun." A grief-stricken librarian climbs behind the wheel of an antique Bookmobile to deliver fresh reads to the dead in "Late Returns." In "By the Silver Water of Lake Champlain," two young friends stumble on the corpse of a plesiosaur at the water's edge, a discovery that forces them to confront the inescapable truth of their own mortality . . . and other horrors that lurk in the water's shivery depths. And tension shimmers in the sweltering heat of the Nevada desert as a faceless trucker finds himself caught in a sinister dance with a tribe of motorcycle outlaws in "Throttle," co-written with Stephen King.

Featuring two previously unpublished stories, and a brace of shocking chillers, Full Throttle is a darkly imagined odyssey through the complexities of the human psyche. Hypnotic and disquieting, it mines our tormented secrets, hidden vulnerabilities, and basest fears, and demonstrates this exceptional talent at his very best.
Full Throttle by Joe Hill is a collection of short stories. Some date back to 2006 and others are new never seen before. Of course I grabbed my earbuds and listened thanks to the fantastic cast of characters. Let's hit the road and check out these tales…
Throttle – Written with Stephen King. Hill was asked to write a piece in honor of Richard Matheson's work and Throttle came to be. A biker gang burned by a deal gone bad have just left a bloody scene when they find themselves pursued by a trucker. What a ride! 4 cups
Dark Carousel– Step right up and enjoy the Wild Wheel, a carousel ride at a tired seaside resort. Freaky, reminded me of summertime at the boardwalk until we got to the carousel and everything became twisted. 4 cups
Wolverton– ARH-WOOOOOOOOOOOOOO! Wolves and an American on a London train. Werewolves to be more precise. 3 cups
By the Silver Waters of Lake Champlain – A group of children discover a dead lake monster in this nod to Ray Bradbury's Foghorn. Once again I am impressed by Hill. He really captures the emotions, mannerisms and voices of young children. I enjoyed this from the narration to the suspenseful finish. 4 cups.
Faun -a hunting game. Mythical creatures, spiders and a twist. 3.5 cups
Late Returns– Love this. A man takes time off from his trucking job to clean up his childhood home after his parents die and ends up driving a relic book mobile for the library; one that receives strange visitors who return and check out books. Clever with another nod to Bradbury. 5 brilliant cups
All I Care About Is You– A futuristic tale featuring where 16 year girl Iris spends her birthday with a clockwork boy named Chip after she inserts 2 tokens into him. She intended to have him haul her bike home and instead they see the sunset. Clever and twisted with a dark turn. 4.5 cups
Thumbprint– Creep stalker, creepy woman. Creepy story. A woman comes home with a medal from the war after a cover-up. Someone begins sending her creepy notes. They know what she did. Twisted with fabulous buildup but alas not my cuppa. 3 cups
The Devil on the Staircase– this felt like a folklore about a climb up stone steps on a mountainside by a coastal Italian town. A young man who makes his living carrying items up and down. He commits a crime and stumbles down unknown steps. This is the story of what happens there. 3 cups.
Mums– A separatist group, a mother trying to save her son and the seeds of youth. An addictive, dark tale. 4.5 cups
In the Tall Grass A Hill/King collaboration also on Netflix. Perfectly creepy, twisted, gruesome and perhaps the darkest of the bunch. See what happen when two siblings try to help a young child and his mom lost in the tall grass on a country road. Now to watch the Netflix show. 5 terrifying cups
You Are Released– Follows travels on a flight across the United States to Baltimore when they learn devastating news. Brilliantly showcases Hill's abilities. We get multiple perspectives and different angles from including some relevant concerns. I like this type of realistic horror that make you ponder long after its over.
A pdf is available for those who purchase the audiobook for the short; Twittering From the Circus of the Dead. The story is told in a series of tweets.
Be sure to listen to the author notes at the end about each story. It was fascinating!
Narrated by Zachary Quinto, Wil Wheaton, Kate Mulgrew, Neil Gaiman, Ashleigh Cummings, Joe Hill, Laysla De Oliveira, Nate Corddry, Connor Jessup, Stephen Lang, and George Guidall. This was a brilliant cast with some favorites of mine making listening a must.
Reading this book contributed to these challenges:
Related Posts