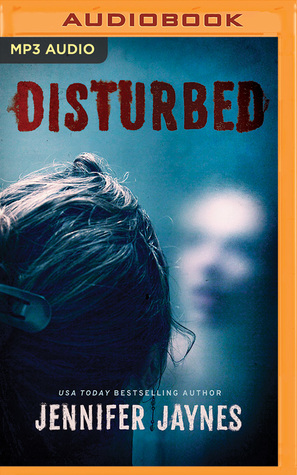 Disturbed
by Jennifer Jaynes
Narrator: Carly Robins
Length: 6 hours and 13 minutes
Genres: Psychological Thriller
Source: Publisher
Purchase*: Amazon | Audible *affiliate
Rating:
A captivating psychological thriller from #1 USA Today bestselling author Jennifer Jaynes.

On Halloween night five years ago, Chelsea Dutton's college roommates were viciously stabbed to death, and Chelsea was critically injured. She was found hiding in her apartment's bathtub, barely clinging to life.

With only fragments of shattered memory, she's been trying her best to move past the nightmares ever since. Now in Boston, she lives a somewhat reclusive life, working from home as a medical transcriptionist and bingeing on mindless television shows.

She can't shake the fear that her attacker is out there, waiting to finish what he started, and Elizabeth, a nurse she met after the murders, is the only person she can trust.

When someone from her past reemerges, Chelsea starts receiving disturbing messages and worries that her every move is being watched. As the messages mount and her memories begin to return, she's led to a very terrifying and lonely place. But she needn't be afraid. She won't be alone there for long.
If you are looking for a twisted psychological thriller than grab your earbuds and listen to Disturbed by Jennifer Jaynes. Captivating, fast-paced and clever I devoured this disturbing tale narrated by Carly Robins.
Caffeinated Reasons to listen to Disturbed
The prologue shares a tragic event that occurred on Halloween Night five years ago. Chelsea Dutton's college roommates were viciously stabbed to death, and Chelsea was found critically injured in the bathtub. The story fasts forwards to the present where Chelsea is dealing with the aftermath. The killer someone they all knew was never found and events from that night are still a blur even in her nightmares.
Jaynes sets the story up perfectly and like Chelsea we begin to look over our shoulder.  She works from home and is very vigilant in her daily life. She only has one close friend/support person, a nurse named Elizabeth whom she met after the attacks. When someone from her past appears, Chelsea begins to feel moments of "normal." That is until she thinks she has spotted the killer outside her home and someone is leaving random notes.
I loved the tension, the red herrings, and the secondary characters Jayne provided from the tenacious detective to suspects. The story was well-paced, and at roughly six hours, this is the perfect audio for a road trip or for tackling chores.
Carly Robins is a new to me narrator, but one I would gladly listen to again. Her unique voices, tone and ability to drive up the tension were superb. The story lends itself perfectly to audio with its flow, chapter set up and perspectives.
While I did figure out the who, Jaynes tripped me up with a stellar twist that was brilliant. I love when the reveal feels like an "aha moment" and is delivered with believability. Disturbed was my first Jennifer James book and I look forward to reading/listening to more of them.
Well crafted and devilishly twisted Disturbed by Jennifer Jaynes delivered all the elements I crave in a psychological thriller.
[bctt tweet="Are you looking for a twisted psychological thriller? Grab your earbuds and listen to Disturbed by Jennifer Jaynes" username="kimbacaffeinate"]
Related Posts