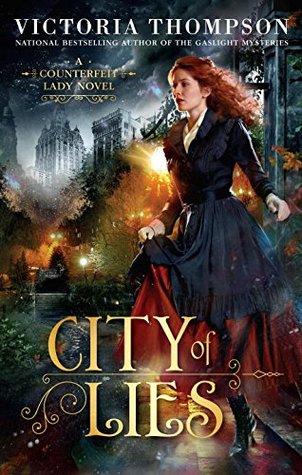 City of Lies
by Victoria Thompson
Series: Counterfeit Lady #1
Genres: Historical Fiction
Source: Publisher
Purchase*: Amazon *affiliate
Rating:
Elizabeth Miles scours 1920's Washington, D.C. for a killer in the first Counterfeit Lady novel from the author of the New York Times bestselling Gaslight mysteries.

Every woman plays a part—but some are more dangerous than others…

Like most women, Elizabeth Miles assumes many roles; unlike most, hers have made her a woman on the run. Living on the edge of society, Elizabeth uses her guile to relieve so-called respectable men of their ill-gotten gains. But brutal and greedy entrepreneur Oscar Thornton is out for blood. He's lost a great deal of money and is not going to forgive a woman for outwitting him. With his thugs hot on her trail, Elizabeth seizes the moment to blend in with a group of women who have an agenda of their own.

She never expects to like or understand these privileged women, but she soon comes to respect their intentions, forming an unlikely bond with the wealthy matriarch of the group whose son Gabriel is the rarest of species—an honest man in a dishonest world. She knows she's playing a risky game, and her deception could be revealed at any moment, possibly even by sharp-eyed Gabriel. Nor has she been forgotten by Thornton, who's biding his time within this gilded orbit, waiting to strike. Elizabeth must draw on her wits and every last ounce of courage she possesses to keep her new life from being cut short by this vicious shadow from her past.
I have long wanted to try Victoria Thompson's Gaslight Mystery series, but at twenty-one books, I kept putting it off. When I saw she was beginning a new series, The Counterfeit Lady, and read the synopsis for City of Lies, I knew it was time.  City of Lies delivered an addictive tale with a quick-thinking grifter who soon finds herself a part of history as she tries to outwit a killer.
City of Lies set in the 1920s both in Washington and New York home to the Four Hundred, Thompson shares an engaging tale about a woman who's running a grift with her brother. When things go terribly wrong she is forced to hide among a group of rallying female suffragists. The tale that unfolds was clever and engaging. So much so that I finished the tale in just two sitting.
Thompson weaves historical facts, friendship, LGBT issues, women's rights and a dash of romance into this suspenseful tale. In the author's notes, Thompson describes how some of the events our heroine Elizabeth Miles, Anna and others suffered through, actually happened during the Women's Movement of the 1920s. Of course, she took some liberties, but I love when actual events are woven into a tale. It gave an air of authenticity and notched up the suspense aspects.
Elizabeth is such a lively character, and I found myself holding my breath with the situations she found herself in. Her cleverness and ability to change the outcome of her circumstances kept me flipping the pages. Thompson made Elizabeth's story of escaping near death to befriending Anna seem genuine. I liked Anna, her brother, and mother and a large part of the scenes are spent in their home.  Anna wants her life to matter, doesn't fancy marriage and finds herself drawn to Elizabeth. I loved the added threads concerning her and appreciated how the author addressed them particularly the LGBT issue. In the 1920s loving, someone of the same sex was never discussed despite the fact that homosexuality existed. The frank conversation and support were refreshing.
We are treated to a romance, well several actually. I loved seeing Elizabeth tackle these moments, use them to her advantage and become flounder entirely by others. The tale was balanced with the suspense thread at the center, and romantic elements threaded through the story. These features allowed for character growth, suspense and delightful moments to make your heart pitter-patter. Will Elizabeth escape or end up at the mercy of the villain? Who will get their heart-broken? It was all so engaging.
City of Lies is perfect for fans of historical fiction, the 1920s, strong, stubborn and smart protagonists. The suspense angle, Griffing, and twists will keep the reader engaged and leave them eager for the next Counterfeit Lady novel.
City of Lies by Victoria Thompson delivered an engaging historical fiction with suspense
Click To Tweet
Stay Caffeinated!
Never miss a post by adding Caffeinated to your Inbox
Your email is not shared and you can unsubscribe at any time.
Related Posts