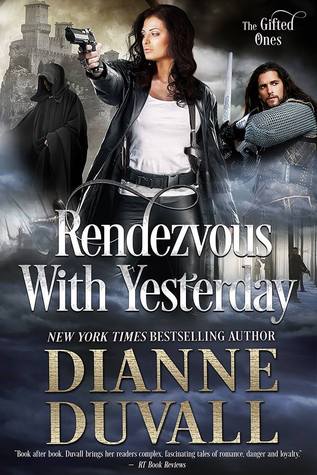 Rendezvous With Yesterday
by Dianne Duvall
Series: The Gifted Ones #2
Narrator: Kirsten Potter
Length: 12 hours and 37 minutes
Genres: Paranormal Romance
Source: Publisher
Purchase*: Amazon | Audible *affiliate
Rating:

Heat Level:

Narration: 4 cups
Modern-day bounty hunter Bethany Bennett helps her brother track two fugitives to a forest outside of Houston, Texas. But what should have been a routine apprehension of two bail skippers spirals out of control and ends in violence. After Beth and her brother are both seriously injured, a mysterious figure suddenly looms over her. And, when the smoke clears, Beth finds herself not only in another place, but in another time. As Lord Robert, Earl of Fosterly, attempts to identify and track down the nameless enemy who has been plaguing his lands and people with violence, the most peculiar woman stumbles into his path. Small, vulnerable, yet possessed of a bold, fiery spirit and wicked sense of humor, she persists in dubbing Robert and his men members of something called a medieval reenactment group-until she sees his castle and labels herself mad. It seems bounty hunter Bethany Bennett has come to him from the future, bringing with her laughter and chaos, swiftly winning the hearts of his people and inspiring within him a love he thought he would never experience again. But when Robert discovers a way for her to return to her time, will the love they share be enough to keep them together?
Rendezvous with Yesterday by Dianne Duvall is the second novel in The Gifted Ones series and this time Duvall adds time travel and humor to the tale as she delighted us with reveals and a swoon-worthy romance as our heroine finds herself in medieval times.
Bethany Bennett, a bounty hunter, is with her brother in a forest outside of Houston, Texas chasing two fugitives when they are gunned down. Losing consciousness she sees her brother severely wounded and then there is a cloaked man above her. When Bethany awakens, she is covered in her own blood, but her wounds are healed. Beside her, she finds her backpack and a tent, two items she thought they left in the car. Her brother is nowhere to be found. Panicked she begins searching for him and runs into three men wearing chainmail, on horses speaking of all things Middle English. Thus begins a delightful tale as Lord Robert, Earl of Fosterly helps Bethany search for her brother and takes her back to his keep.
Rendezvous with Yesterday was such a joy on audio. Kirsten Potter narrated, and she nailed Bethany's confusion, the chemistry that develops between her and Robert as well as his men's shock and awe at this odd little woman! I laughed so hard at times; I had tears streaming down my cheeks. Just imagine a gun-wielding modern woman clad in jeans who is shocked at discovering she is in a medieval keep. It was a difficult transition, and we shared in her vulnerability.
The chemistry and banter between Bethany and Robert was perhaps my favorite part of the story. The romance was slow-building, and Duvall delivered hilarious moments that turned heated making me grin in merriment. The romance had sweet and touching moments that pulled at my heartstrings. Since Bethany time traveled, we weren't all that certain if she would pop back or perhaps choose to go home. These elements added a little sadness and tension, but leave it to Duvall to deliver an ending that satisfied.
We learned some interesting things in Rendezvous with Yesterday, and boy am I eager to find out more! While this is part of a series, I see no reason why anyone cannot grab their earbuds and listen. Dianne Duvall is a master storyteller and does an excellent job of presenting the overall arc while giving each book a full romance.
[bctt tweet="The audio of Rendezvous With Yesterday by Dianne Duvall had me laughing and swooning" username="kimbacaffeinate"]
Related Posts