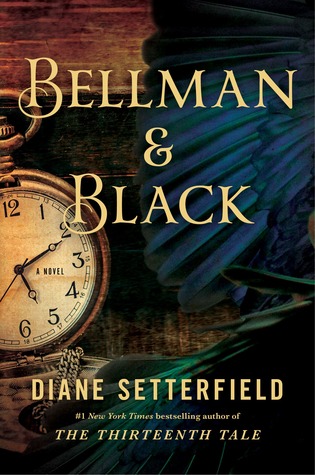 Bellman & Black
by Diane Setterfield
Genres: Fantasy, Mystery, Paranormal
Source: Publisher
Purchase*: Amazon *affiliate
Rating:
Bellman & Black is a heart-thumpingly perfect ghost story, beautifully and irresistibly written, its ratcheting tension exquisitely calibrated line by line. Its hero is William Bellman, who, as a boy of 11, killed a shiny black rook with a catapult, and who grew up to be someone, his neighbours think, who "could go to the good or the bad." And indeed, although William Bellman's life at first seems blessed—he has a happy marriage to a beautiful woman, becomes father to a brood of bright, strong children, and thrives in business—one by one, people around him die. And at each funeral, he is startled to see a strange man in black, smiling at him. At first, the dead are distant relatives, but eventually his own children die, and then his wife, leaving behind only one child, his favourite, Dora. Unhinged by grief, William gets drunk and stumbles to his wife's fresh grave—and who should be there waiting, but the smiling stranger in black. The stranger has a proposition for William—a mysterious business called "Bellman & Black" . .
Bellman & Black was my first foray into the mind and writing of Diane Setterfield. I have heard countless recommendations and praise regarding her earlier work, The Thirteenth Tale and decided to take a chance. The writing is beautiful, dark and unsettling at times. Mini review: atmospheric, dark, clever, and unsettling.
The tale begins when we meet our protagonists as he revisits the summer he and his friends were eleven. It was a summer of magic, of boys being boys, of limited possibilities. It was also when, with his well crafted sling-shot, he took aim and made an impossible shot; killing a black rook. It is a deed that will haunt him and overshadow events throughout his life. Described as a ghost story, it is more than that, as our protagonist William Bellman struggles with the demons that dance in his self-conscious. This was an odd tale of one man's life, reminiscent of Charles Dickens and perhaps written in an attempt to capture the dark beauty that is, Edgar Allen Poe.
William Bellman is an odd man, complex, driven, haunted and an unreliable narrator. The man was haunted, in particular by events and a mystery man named Black. Tragedy and loss, success and restlessness, haunt our protagonist. While I cannot say I ever warmed up to William, I certainly experienced his emotions. I couldn't help but wonder if William was simply disturbed, or if he was truly plagued, making the tale compelling and unsettling. We meet his family, and other characters that help shape our opinions and reveal sides of William. The characters William interacts with aren't fleshed out, including his daughter who herself was an odd creature. I was intrigued by her, and wish her presence was more in-depth. There are love interests, but even those are overshadowed by William's thoughts and drive.
Bellman & Black was beautifully written, wholly character driven and deliciously strange. Fans of Hitchcock and Poe will enjoy its odd nuances. The tale takes us through William's life from the darkest to the brightest moments.  We get caught up in his emotions, drive, fears and perhaps paranoia. The plot itself moves at a meandering pace, with heightened moments as we travel towards meeting Black. Throughout the book, we are given information about the Rook all of which I found fascinating. As I read I had a sense of foreboding, and constantly wondered as to William's state of mind. This book was never boring, but the pacing may disappoint some. I am a huge fan of Poe and Dickens and some of the author's dark and atmospheric passages regarding death and loss captured their essence. This is not your typical ghost story, and I am even hesitant to mention that, since I feel it will mislead the reader. Refreshing and different Bellman & Black was a tale that I enjoyed but fear it will only appeal to a unique audience. I would be selective as to whom I would recommend it.
Bellman & Black was a dark tale that will unsettle and fascinate the reader. It is not one you will read at a maddening pace, or become euphoric after reading. Instead it will make you ponder, and the next time you see a Rook, you might stop and pause.
Four cups of black coffee out of five

Stay Caffeinated!
Never miss a post by adding Caffeinated to your Inbox
Your email is not shared and you can unsubscribe at any time.
Related Posts