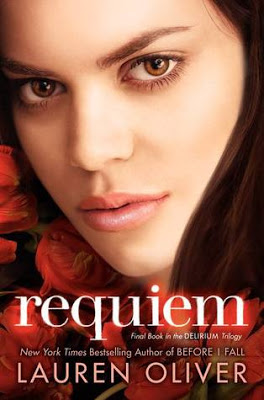 Requiem
by Lauren Oliver
Series: Delirium #3
Genres: Dystopian
Source: Publisher
Purchase*: Amazon *affiliate
Rating:
Now an active member of the resistance, Lena has been transformed. The nascent rebellion that was under way in Pandemonium has ignited into an all-out revolution in Requiem, and Lena is at the center of the fight. After rescuing Julian from a death sentence, Lena and her friends fled to the Wilds. But the Wilds are no longer a safe haven—pockets of rebellion have opened throughout the country, and the government cannot deny the existence of Invalids. Regulators now infiltrate the borderlands to stamp out the rebels, and as Lena navigates the increasingly dangerous terrain, her best friend, Hana, lives a safe, loveless life in Portland as the fiancée of the young mayor. Requiem is told from both Lena's and Hana's points of view. The two girls live side by side in a world that divides them until, at last, their stories converge
I enjoyed Delirium, was sickened by the cliffhanger ending that Oliver left us within Pandemonium and found Hana fascinating. As you can imagine I was very anxious to step back into Oliver's final book of the series Requiem. Fans are either going to adore this one or loathe it. The author ends this series without a lot of closure. I thought it was perfect and if you read my reviews you already know I loathe endings forced into a happy little bow. Filled with battles, death, suspense and unrequited love I consumed this in a single day.
The tale picks up where Pandemonium left off, and it took me a second to place all the faces. They are headed back into the Wilds and Alex is with them. Things are awkward, disorganized and there is tension. The tale is told from the points of view of Hana and Lena. As Hana moves towards her upcoming wedding and Lena and the resistance move towards a rebellion uprising. The tale that unfolds is packed with emotion, contemplation, heartbreak, mystery, and fear.
Lena has joined the resistance but struggles to commit, I felt if not for her loyalty to her new family in the Wilds, that she would have sat this whole thing out. She struggles with her feelings towards both Julian and Alex. She loved Alex, and losing him was so painful for her that she holds back. Julian is strong, heads into danger and wants Lena by his side. Alex has changed, and when confronted by Lena he holds back and doesn't open up. He is absent from most of the book leaving us without the epic love triangle I anticipated. While he isn't present he is very much in Lena's thoughts. We see some really brave stances from some of the characters in the wild and I admired them and wished we knew more about them. Someone close to Lena reappears and guides her. Hana is really struggling; she worries the cure didn't work, she feels guilt over her betrayal and worries about her upcoming wedding. She questions what kind of man she is about to marry and we become caught up in her fears. His storyline made me shiver but Hana does a lot of brave things, and I liked the woman she is becoming.
Chaos and war rule supreme in this final installment. The Wilds are no longer safe, and those who are among the uncured struggle with their daily existence. There are unrest and fear within the government cities and the more we learn about the mayor of Portland and his plans the greater our fear becomes. We get plenty of action and eye-opening moments. The transformation of both Hana and Lena were delightful but I still wish some of the secondary characters were fleshed out more. Yeah, I know we get all these novellas with the deets, but I'd rather have a six hundred page novel with fully fleshed out characters. *just sayin* The writing is beautiful and the flow kept me turning the pages. The ending was climactic and this is where a lot of you may take issue. If you need your ending wrapped up in a pretty box with a neat little bow this might leave you reeling. Personally, I thought it was beautiful and that last page was so powerful and moving. I think Oliver did it perfectly.
After the ending of Pandemonium, Requiem is a must-read for fans of the series. While some may walk away unhappy, I am delighted that I read this series and will pick up Raven the novella scheduled to release today. Oliver is on my auto-buy list and I look forward to the next adventure.
Stay Caffeinated!
Never miss a post by adding Caffeinated to your Inbox
Your email is not shared and you can unsubscribe at any time.
Related Posts