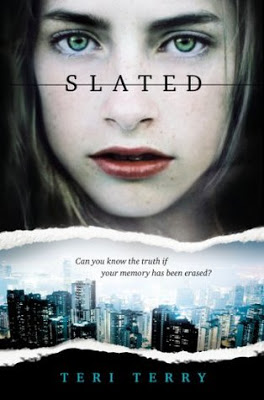 Slated
by Teri Terry
Series: Slated #1
Genres: Dystopian
Source: Publisher
Purchase*: Amazon *affiliate
Rating:
Kyla has been Slated—her memory and personality erased as punishment for committing a crime she can't remember. The government has taught her how to walk and talk again, given her a new identity and a new family, and told her to be grateful for this second chance that she doesn't deserve. It's also her last chance—because they'll be watching to make sure she plays by their rules. As Kyla adjusts to her new life, she's plagued by fear. Who is she, really? And if only criminals are slated, why are so many innocent people disappearing? Kyla is torn between the need to know more and her instinct for self-preservation. She knows a dangerous game is being played with her life, and she can't let anyone see her make the wrong move . . . but who can she trust when everyone is a stranger?
Slated is Teri Terry's debut novel and it offers up a clever and rather terrifying dystopian world where those whom the government claims are terrorist are offered a second chance by having their memories erased. This process is called Slating. This chilling novel kept me captivated with its strong protagonist and suspenseful plot.
The tale takes place in the late twenty-first century and the government is now referred to as the Central Coalition. The society is controlled by a group of soldiers known as "Lorders" (law and order officers). We meet Kyla at the New London Hospital where she is being processed out to return to society and live with her parents and sister. She has been slated and will be forced to wear a Levo unit around her wrist. It cannot be removed and it monitors her happiness level. She will be monitored until she is twenty-one at which time her sentence will end and the device removed. Something is not quite right and Kyla suffers from nightmares. They are of strange events and she quickly discovers she is different from the other slate. The tale that unfolds is filled with mystery and suspense as Kyla begins the search for the truth.
Kayla was an interesting character, and he/she quickly realize she is different. This is all new to her and she fumbles a little on whom to trust, what is truth or propaganda and it added to the overall tale. We get to see her come into her own a little as she makes discoveries. Ben is another slated and the romantic interest. The romance was juvenile and sweet but did not add to the overall plot and I was not really swept up in it. I found her parents to be fascinating and not knowing whose team they were on was scary. Amy is Kayla's sister and has been slated. She offers us a look at a successful slating. Amy and her boyfriend Alex helped move the plot but sadly were not fleshed out. The doctors, counselors, and teachers helped paint a picture of the current government and added to the overall mystery. I loved that we/she were never sure if we were being tested or helped by others.
The thing that really struck me about this dystopian world is that it could actually happen! Everything the government was engaging in could probably be done now with the technology we own. How the process of Slating was discovered freaked me out. I had recently read an article about this type of testing. This totally escalated the creep factor for me. There were issues; for example, there were inconsistencies with Kyla's knowledge after being slated. She did not know how to work a car door, but knew other things. The Slated retained their speech and fine motor skills and maybe I am wrong but having met stroke victims and such I imagine recovery would be similar and it didn't quite jive with me. Those issues aside this was a compelling tale. I love world building and this one did leave me with many unanswered questions. The author provides us with facts as Kayla learns them. I will say I enjoyed how this added to the suspense and mystery. The sensation of being off kilter because you did not know who to trust, what was real and none of the history until Kayla learned it was enthralling. I easily consumed this well-paced tale in a few hours and look forward to Fractured the next book.
Dystopian fans should enjoy Slated and while it is not perfect it was an engaging start written by a promising new author. I am looking forward to seeing where Terry takes this series in Fractured which is due to release in 2013.
Related Posts