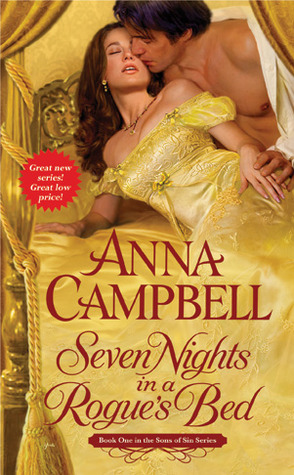 Seven Nights in a Rogue's Bed
by Anna Campbell
Series: Sons of Sin #1
Genres: Historical Romance
Source: Publisher
Purchase*: Amazon *affiliate
Rating:
Will a week of seduction..Desperate to save her sister's life, Sidonie Forsythe has agreed to submit herself to a terrible fate: Beyond the foreboding walls of Castle Craven, a notorious, hideously scarred scoundrel will take her virtue over the course of seven sinful nights. Yet instead of a monster, she encounters a man like no other. And during this week, she comes to care for Jonas Merrick in ways that defy all logic—even as a dark secret she carries threatens them both...Spark a lifetime of passionate surrender. Ruthless loner Jonas knows exactly who he is. Should he forget, even for a moment, the curse he bears, a mere glance in the mirror serves as an agonizing reminder. So when the lovely Sidonie turns up on his doorstep, her seduction is an even more delicious prospect than he originally planned. But the hardened outcast is soon moved by her innocent beauty, sharp wit, and surprising courage. Now as dangerous enemies gather at the gate to destroy them, can their new, fragile love survive?
Eek Gads this was yummy! Seven Nights in a Rogue's Bed sounded sinfully delicious and I was excited to read it. As Anna Campbell's first book in the Sons of Sin series, she dished up a hot steamy tale with wonderful characters and an engaging plot. Reminiscent of Beauty and the Beast I was quickly ensnared in this wicked tale and lost myself in its pages.
Sidonie Forsythe, in an attempt to save her older sister's life, agrees to go in her stead to fulfill a debt. She arrives at the Castle Craven the home of a hideously scarred scoundrel to surrender her virtue for seven sinful nights. Willing to do anything to protect the ones she loves, she braces her back, calms her nerves and prepares to meet this monster. The tale that unfolds was absolutely delightful, positively sinful and kept me turning the pages.
I adored the complex characters we meet in Campbell's novel. Sidonie is brave, opinionated, flawed and has a secret. Jonas Merrick is disfigured and is often referred to as a monster. He lives in solitude and seeks revenge on the ones who betrayed him. He is such a complex man, and Campbell does an excellent job of revealing the many facets which explain his outward personality. The interaction between these two was enthralling to witness. They had me laughing one minute and wanting to clunk them over the heads the next. Watching these two strong personalities try to figure things out was such fun. The romance felt genuine and the characters became three dimensional. Secondary characters helped build suspense and reveal things. We met Cam Rothermere and Richard Harmsworth, two childhood friends of Jonas and I am anxious to read their stories. Richard's story will be told in the next Son's of Sin novel.
The tale itself captivated me as I turned page after page wanting my happily-ever-after. I loved the story behind Sidonie's predicament and why Jonas would even do such a thing. The chemistry between Jonas and Sidonie was absolutely delicious; filled with tension, angst, and page melting scenes. This tale delivered seven very steamy, detailed nights in a rogue's bed but it also provided a strong plot filled with suspense. Campbell's writing style is enjoyable and the tale flowed effortlessly. The character of Jonas was wonderfully developed and I adored how she was able to show both the monster and the tender man beneath. This is a book you cannot put down and that leaves you smiling just thinking about it.
I recommend Seven Nights in a Rogue's Bed to fans of historical romance with a side of suspense. This was hot! hot! hot! I am looking forward to A Rake's Midnight Kiss which will be released in 2013. My advice: grab this book, a glass of wine, some chocolate truffles and lock yourself away because once you start reading you'll be lost.
Related Posts