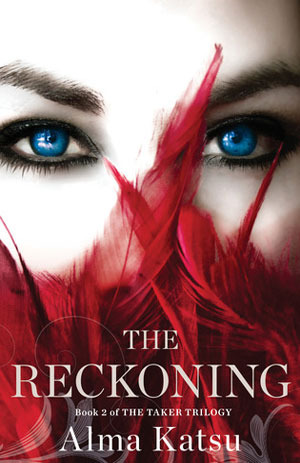 The Reckoning
by Alma Katsu
Series: Taker Trilogy #2
Genres: Paranormal Romance
Source: Publisher
Purchase*: Amazon *affiliate
Rating:
SECOND IN ALMA KATSU'S GRIPPING SUPERNATURAL TRILOGY THAT BEGAN WITH THE TAKER  Lanore McIlvrae is the kind of woman who will do anything for love. Including imprisoning the man who loves her behind a wall of brick and stone. She had no choice but to entomb Adair, her nemesis, to save Jonathan, the boy she grew up with in a remote Maine town in the early 1800s and the man she thought she would be with forever. But Adair had other plans for her. He used his mysterious, otherworldly powers to give her eternal life, but Lanore learned too late that there was a price for this gift: to spend eternity with him. And though he is handsome and charming, behind Adair's seductive faÇade is the stuff of nightmares. He is a monster in the flesh, and he wants Lanore to love him for all of time.Now, two hundred years after imprisoning Adair, Lanore is trying to atone for her sins. She has given away the treasures she's collected over her many lifetimes in order to purge her past and clear the way for a future with her new lover, Luke Findley. But, while viewing these items at an exhibit at the Victoria and Albert Museum in London, Lanore suddenly is aware that the thing she's been dreading for two hundred years has caught up to her: Adair has escaped from his prison. He's free— and he will come looking for her. And she has no idea how she will save herself.
I read and reviewed The Taker, Alma Katus's first novel in this trilogy with a Goodreads group. I found it to be disturbing, compelling and one that left me breathless. I found myself repulsed and drawn to Lanore McIlvrae's story and had to know more.  The group decided to read The Reckoning for August and again I found myself completely drawn to this tale and its fleshed out and complex characters. Katus is a powerful storyteller and I encourage you to pick this trilogy up.
The tale picks up shortly after book one ended, and we find ourselves in England with Lanore and Luke Findley. While at a museum, Lanore senses that Adair has escaped the prison that she and Jonathan trapped him in over two hundred years ago. Lanore is terrified for she knows he will hunt her down and seek revenge. Adair wakes up to find his fortune gone and the world around him completely changed. He seeks one of the others and makes plans to find Lanore. The tale that unfolds left me breathless, as Lanore tries to escape and the two of them deal with their complex feelings.
The characters in this tale are unique, complex, and twisted. I find myself completely surprised that I connected with them and understood them. They are all flawed, all damaged and despite what they claim they all want love. We get to know more of Adair's backstory, and things we thought were true, turn out to be lies. We learn more about the other members of Adair's twisted family and I enjoyed getting to know them. I liked Lanore more in this novel, perhaps I understood her a little better. While a part of me still fears Adair I was completely floored by the other side of him that Katus unveiled to us. I am amazed at the hold Lanore has on Jonathan, Luke, and Adair. I think what I find refreshing is that she doesn't think she deserves it and has a twisted idea of "happiness". These characters will haunt you long after you close the book.
While there is still a veil of mystery to the alchemy behind Adair and his ties to them all, I found this to be a wonderful middle book. Often, it can fall flat, but this was action packed and took me on an emotional ride. Character development and depth brought the tale to life. The author's writing style flows beautifully as you ride one intense scene after another. Elements of suspense, mystery, and fear had me turning the pages, oblivious to the world around me. This is a dark tale that explores love, greed, hatred, selfishness, and power. The characters kept me riveted and I consumed this in a single afternoon. This tale will take you out of your comfort zone and intrigue you at the same time. Readers in our group have made comments like, "It made me uncomfortable, yet I loved it." "It's sick but addicting." It has left me eagerly awaiting the final installment and has currently earned a place on my top five adult novels for 2012.
I highly recommend The Reckoning to fans of dark, edgy paranormal romances. Alma Katsu is on my auto-buy list and The Descent book three in the trilogy is expected to publish in 2013.
Related Posts