Daisy Darker by Alice Feeney has been on my wishlist since its release. While looking for audiobooks to fulfil my goals for the Library Love Challenge, I came upon it and immediately downloaded it. Narrated by Stephanie Racine, I quickly became caught up in this isolated "And Then There Were None" murder mystery.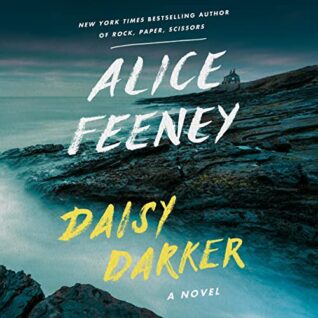 Daisy Darker
by Alice Feeney
Narrator: Stephanie Racine
Length: 10 hours and 54 minutes
Genres: Suspense Thriller
Source: Library
Purchase*: Amazon | Audible *affiliate
Rating:

Narration: 5 cups Speed: 1.45x

The 'New York Times' best-selling Queen of Twists returns…with a family reunion that leads to murder.

After years of avoiding each other, Daisy Darker's entire family is assembling for Nana's 80th birthday party in Nana's crumbling gothic house on a tiny tidal island. Finally back together one last time, when the tide comes in, they will be cut off from the rest of the world for eight hours.

The family arrives, each of them harboring secrets. Then at the stroke of midnight, as a storm rages, Nana is found dead. And an hour later, the next family member follows…

Trapped on an island where someone is killing them one by one, the Darkers must reckon with their present mystery as well as their past secrets, before the tide comes in and all is revealed.

With a wicked wink to Agatha Christie's 'And Then There Were None','DAISY DARKER's unforgettable twists will leave listeners reeling.
Daisy Darker is the first to arrive at Nana's coastal cottage in celebration of her 80th birthday. Once the tide comes in, they will all be cut off from the rest of the world for eight hours. Everyone arrives, all carrying secrets, and soon the festivities begin. A storm rages outside and at the stroke of midnight Nana is found dead and when the cuckoo clocks strike one another family member is found dead….
The tale that unfolds hooked me as we learn about the family, Daisy's unique heart condition. In attendance are Daisy's mother, father and two sisters, along with a neighboring childhood friend that Nana took under her wing and her niece. Clues appear with ominous messages and the family tries to piece together who the murder is. With no outside help, the clock is ticking….
Whew. What a twisty tale. The author captured all sides of families, from the good to the ugly. I enjoyed learning about time spent at Nana's cottage just as much as the present day mystery. The pacing was well done as the suspense built. I loved the creepy poems and fun, quirky traditions that Nana had. From Christmas past to secrets, I was enthralled.
Most of the characters were unlikable except Daisy and perhaps Nana, but I found myself engaged in their histories as I tried to figure out which one was the murder. It was clever and addictive. It's the type of story you'll want to talk about and recall long after you've finished. It would make an ideal buddy listen or book club selection.
I loved the audio narration. Stephanie Racine did a great job of capturing each personality and giving voice to Daisy. I highly recommend listening.
An addictive tale perfect for fans of closed door mysteries and isolated murder-mysteries.

Stay Caffeinated!
Never miss a post by adding Caffeinated to your Inbox
Reading this book contributed to these challenges:
Related Posts