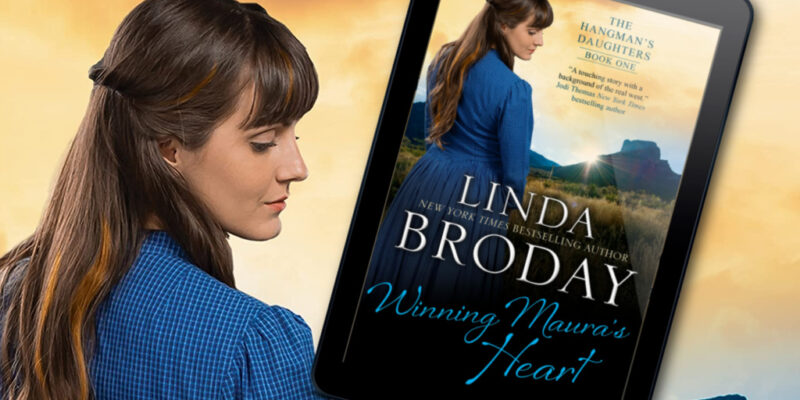 Sophia Rose shares her thoughts on Winning Maura's Heart by Linda Broday. Settle in with a cup of tea and check out her thoughts on this emotional western romance set in Texas.
Winning Maura's Heart
by Linda Broday
Series: The Hangman's Daughters #1
Genres: Historical Romance
Source: Publisher
Purchase*: Amazon *affiliate
Rating:

Heat Level:
Texas, 1876. Maura Taggart is an outcast. She is the daughter of a hangman and tainted by association - no reputable man would ever want her as his wife. And now she is homeless, along with her sister and the group of children in their care. But Maura has grit. She finds a nearby mission where the nuns agree to take them in and set up an orphanage. But trouble is just around the corner . . .

The Calhoun brothers are identical twins but on opposite sides of the law. Cutter is a deputy Marshal, Jonas an outlaw. When Cutter attempts to break his brother out of a notorious gang, they are shot, and Maura finds one of them wounded, close to the mission - but which brother is it?

As the stranger regains his strength under Maura's care an attraction between them grows, but there's a question over his identity. Can he be trusted and why has his presence brought danger to their door? With the orphanage under threat can Maura trust this handsome stranger both with their safety and with her heart?
Sophia Rose's Review
A woman judged and ill-treated for her father's profession rescues a wounded man, but is he lawman or outlaw? This is the setup for a powerfully emotional western romance written by an author who writes the Old West of Texas with heart.
Winning Maura's Heart is the first in The Hangman's Daughters series focusing on Maura, who with her sister Emma had a tough childhood and still face the unearned cruelty of others simply for what their father does. Their tender and loving mother, when she was alive, offset the withdrawn distance of a father who was a hangman by profession. Their mother couldn't protect them from all the bullying kids and their equally mean-spirited parents and their father was gone doing his work, so Maura and Emma have a sensitivity for the unwanted and downtrodden of the world.
When no one else in San Antonio will, the sisters nurse the yellow fever sufferers, get driven out when the plague seems to have passed, but they take the orphaned children of this latest plague with them into the old Alamo mission, joining three Catholic Sisters who have come to open the Mission back up and their own drunken Uncle Max with demons of his past.
Not long after they arrive, Maura comes upon a man shot and close to death. His personal effects and the saddlebags on his horse only give interesting hints that point to two extremes. He's either a lawman or an outlaw. And, when Calhoun comes to and starts to get better, he's not really forthcoming. But, the pair of them are drawn to each other even as the danger of an outlaw gang looking for the loot from their last bank robbery, Calhoun's mysteries, and the trouble that always follows the hangman's daughters are enough to divide them unless they can hold strong and hold to each other.
With the same attention to historical backdrop, western action and suspenseful build-up, layered characters, and tender yet compelling romance, the author draws the reader into a new series set up. What a unique background for Maura and Emma. My heart broke many times for these sisters who were shunned, bullied, and abused simply because people were uncomfortable or hated that their father hung criminals for a living. And, they didn't even get a supportive parent with a mother passed away and their father's means of living making him emotionally cold and physically barely there.
Added to the two sisters, their Uncle Max, who didn't have it easy either with his brother following their father in the hanging profession and his troubling past. He was a fascinating side character who I enjoyed knowing and seeing him really make an effort through is struggles when his nieces and the orphans came. The three nuns were a nice addition to the underdog group at the mission. And, of course, there are the whimsical and touching ways of those orphan kids who lucked out at last with the found family that Maura and Emma made for them.
The romance was intriguing as the reader is kept in the dark with Maura as to which Calhoun twin survived the skirmish with the outlaws when the law-abiding twin went to find his brother who was a member of the outlaw band. Maura is reluctantly falling in love with her eyes open to the possibility of either even as she resists the feelings because everything in her past has taught her that love, a husband and normal family life are not for the likes of her. Meanwhile Calhoun is struggling to get his health back so he can deal with the outlaws that will come looking and endanger Maura and the others. I don't want to give anything away. I swung between suspicions of which twin he was through a good deal of the story, but still fell in love with him right along with reluctant Maura.
The build to the confrontation and the reveals was as good as it promised through the story. Man, were my emotions vested. I do love how Linda Broday writes her western romances, so you get all the good stuff and a satisfying finish with a strong anticipation for more. The world of that time and place is drawn so well that I can heartily recommend this one to fans of romance set in the harsh times of the Old West.

Stay Caffeinated!
Never miss a post by adding Caffeinated to your Inbox
Related Posts