Join me in celebrating the release of ALL SIGNS LEAD TO LUCY by Julieann Dove. This women's fiction romance shares the story of Lucy Fister, who discovers that in the game of love, fate always wins. Check out an excerpt, download your copy and enter the fabulous giveaway.
All Signs Lead to Lucy
After living a life of failed, predictable relationships, Lucy Fister took the advice of the psychic who charged sixty dollars for ten minutes: start seeking men who are the absolute opposite of who she dated. It made sense, but paying for the obvious meant it might work.
Tyler Tolliver met that criteria. He was an out of work actor who'd invented the love language 'have a good time.' They had a whirlwind relationship and after four months, he proposed, holding a bread tie for a ring, and giving the argument that the lease on his loft was expiring.
One year into her marriage with Tyler, and Lucy was tired of playing Xbox, clubbing, and watching movies before reading the book. She missed conversations deeper than picking where they'd eat, and being in bed before midnight. When her estranged best friend, Vanessa asked her and Tyler to go on a week-long trip to the Caribbean with her new fiancé, Martin VanLeer, Lucy accepted the invitation.
Fate scatters people and plans like a ceiling fan scatters loose papers. On the eve of the trip, Tyler and Vanessa respectively were called to fulfill work related tasks. The new plan was for them to meet up with Lucy and Vanessa's fiancé in a couple of days.
One week is all it took for Martin and Lucy to fall in love. And for Lucy to realize that psychic was wrong—she didn't need to find someone opposite of all the guys she dated, she needed to be warned of the millionaire engaged to her best friend. Because if they acted on this attraction, it meant destroying a marriage, a wedding, and a lifelong friendship.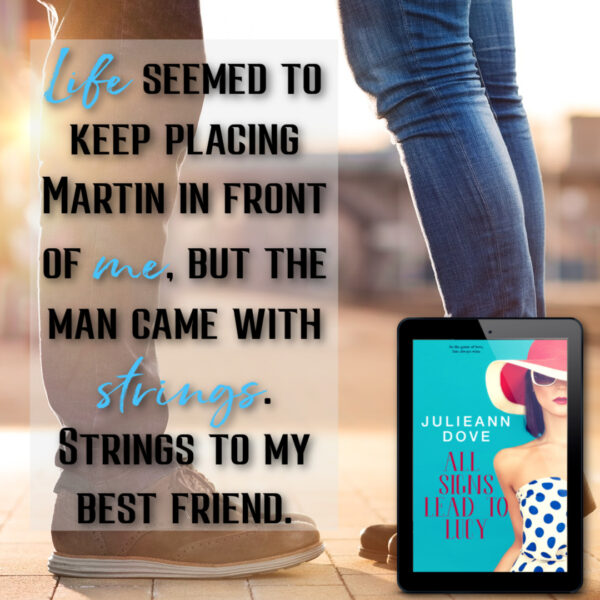 Read an Excerpt
"The captain has been tracking a tropical storm off the coast in the path we are heading."
My empty stomach dropped. "That doesn't sound good." I wanted to want this boat trip, but truth be told, it was Tyler who talked it up more than me. And of course there was us salvaging our torn relationship goal. But I've seen Six Days, Seven Nights. And Titanic. And Cast Away. I'm not new here. And now a storm?
Vanessa must've felt my heat radiating from where she sat. "Come on, Lucy. It's fine." She looked at Martin. "Right, honey? I mean, storms move, right?"
"Right. And that's what we're banking on. But we're going to wait a day to leave. We'll pull out at lunch tomorrow. That will ensure us that it's moved out of the way."
The waitress placed our drinks on the table and took off again.
What, no bread? I punctured my straw through the paper and dipped it in the ice. Ah, refreshing. Vanessa squeezed the lime wedge in her martini and sipped from the edge. Was she impervious to alcohol? Did she have an iron liver?
"How bad is it? I mean, tropical isn't code for cyclone, right? I mean, hurricanes are still a thing, aren't they? Don't they typically name them after women? Maybe this one had a nice, un-destructive name like Eleanor. Or Melanie." I needed assurance this was raindrops and a breeze, not a rip-off-the-side-of-the-boat and you're on 60 Minutes thing, being watched by helicopter above while the sharks circled.
His mouth frowned. "I think he said winds of seventy miles per hour."
My chest heaved. "This is a bad sign. Don't racecars travel at 100 miles per hour? And they're hard to watch. That's only thirty more miles. Per hour."
"Actually, I believe they travel much faster," he replied.
Did it matter? Seventy certainly sounded more frightening than a graceful twenty-five. I took another drink. "First my luggage, then it appears Tyler has dropped off the edge of the earth, and now a tropical storm?" I clicked my nail on the tabletop. "No, this is definitely a sign."
Copyright © 2023 by Julieann Dove
About the Author
Julieann Dove takes great pleasure in writing about love and all the mess that goes along with it. How else does happily ever after become realized, if not for some type of hardship and journey? When she's not writing, she loves playing with fabric at her sewing machine, baking new recipes, and playing in the dirt, trying to get things to grow. Julieann loves old movies, and never tires of listening to music—it's where she finds most of her inspiration for her books.
Website | Facebook | Twitter | Newsletter | BookBub
Enter Giveaway
Enter to win a twenty-five dollar Amazon gift card! Open to anyone who can accept US eCard. Ends March 31, 2023.
a Rafflecopter giveaway

Stay Caffeinated!
Never miss a post by adding Caffeinated to your Inbox